Illustrated by Ammiel Mendoza.
Tousled hair, a statement red lip, and a certain nonchalance: Could we possibly be talking about anyone other than the archetypal hot Parisienne? There's no question that French women have a certain sense of style, whether they're 18 or 80. (After all, there's no French saying for "mom jeans.") And, when we look at modern-day French style icons — Garance Doré making flats look Fashion-Week chic, Léa Seydoux cropping her hair — it's hard to not want to know what they're doing to look so damn good.
But,
while it might seem as though French women were born with glowing complexions and perfectly undone hair, that's just not the case
. Beneath the facade of effortless, natural beauty is an arsenal of time-honored traditions, steadfast beauty rituals, and unique attitudes. In an attempt to push beyond the mystique, we talked to some of our favorite French ladies and discovered what it takes to give an entire nationality of women that certain...well, you know. Keep reading.

Want even more R29? Get the latest news, tips, and can't-resist stories delivered straight to your newsfeed, in real time.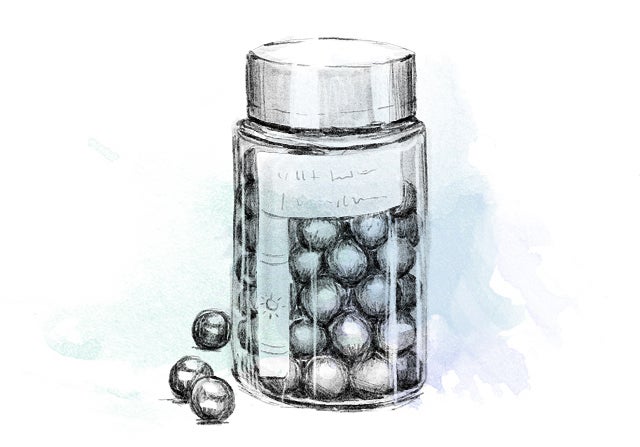 Illustrated by Ammiel Mendoza.
They eat up the sun. At this stage in the game, we're all highly aware of the sun's role in causing cancer and accelerated aging. But, the alternative route to a sun-kissed glow — mainly self-tanning products — can leave us looking like Oompa-Loompas. Since the French aren't fond of beauty rituals that result in an unnatural look, many sidestep orange-y sunless tanning products and pop pre-sun pills instead.
These pills, which contain carotenoids, selenium, and vitamin E, are reported to both hydrate the skin and speed up melanocyte production, which can add a healthy little St. Tropez-style glow. Tish Jett, an American living in Paris and author of
Forever Chic
, says that while the pills are made for people with sun allergies, they are "extremely popular in France."
"They have antioxidants and omega [fatty acids] in them," she points out. "Theoretically, they do hydrate and have positive side effects," she says, noting that because they do not contain sun protection, SPF must be used along with the pre-sun supplements.
There's no phrase for "workout junkie" in French.
Many French women aren't wired to be gym rats. And, according to Mireille Guiliano, author of the forthcoming book
French Women Don't Get Facelifts
, most French women don't like to exercise indoors. When it comes to exercise, Guiliano says, "A French woman would not do it if it were boring. That's why you don't see many of them in the gym — because they think it is like torture. We are not born for this kind of exercise routine."
So, if the gym or exercising indoors gets the boredom veto, then how do they keep their hearts healthy? Playful "AquaGym" or water aerobic classes, for one, are wildly popular. "It's higher-impact and people are having fun, [which is important] because that pleasure factor is always a big consideration," Guiliano says. Incidentally, underwater cycling classes are just hitting the States.
Another way women take the grind out of fitness is by engaging in "Invisible Exercise," in which daily routines are spiked with little bouts of activity. Parking in the space farthest from the building entrance or stepping off the train a few stops before reaching your destination (and, of course, electing for the stairs) are ways to partake in invisible exercise.
Illustrated by Ammiel Mendoza.
They put a mask on it. True, women of every culture use masks to help hydrate, detox, brighten, and balance the skin. But the use of masks has long hit a fever pitch in France. From when they are little girls, French women use homemade masks to nourish hair and skin. "I remember my grandmother creating a mask with egg yolks for my hair and rinsing with vinegar," says French-born Marie-Laure Fournier, who runs Fournier Communications, a New-York based PR agency that represents global beauty brands. These types of treatments tend to replace styling products in French women's bathrooms, according to Fournier.
Face masks are just as popular. "In France, you grow up knowing to do a mask for your skin at least once or twice a week," she says. "And, if you don't have enough money to buy something, you can make your own mask." Homemade masks might include lavender if your ancestors were from the South of France, or seaweed if they were from Brittany. "Everyone has their own legends and tricks for homemade masks," Fournier explains. "It depends on which region your parents came from."
She adds that she's surprised that the use of masks aren't as popular in the United States. "The big misconception is that you need to do nothing when you have a mask on," she says. Fournier notes that it's easy to wear a mask while having morning coffee — something that even we multitasking Americans can do.
Illustrated by Ammiel Mendoza.
They moisturize, moisturize, moisturize.

The French are known for their intensive skin creams, and a trip to any
pharmacie
will provide a fantastic array. "French women focus much more on skin care than cosmetics; we like to have a super-healthy, luminous, and clear complexion," says Mathilde Thomas, founder of skin-care brand Caudalie. "It's all about simplicity." But, another way women moisturize is with oils, a ritual that's just catching wind on this side of the pond. Thomas explains: "Oils have been integral to the beauty rituals of many French women for years. I've grown up using them on my skin and hair, and my entire family does the same."
They soak in seawater solutions. We're all aware of La Mer's highly-touted seaweed extracts — and the steep price tag that comes with them. And, Stateside, spa time is something that's enjoyed by those with disposable income. Combining seaweed with spa treatments seems like a delicious, yet out-of-reach experience. But, in France, where inhabitants have been practicing thalassotherapy since the 1800s, seaweed baths, seaweed wraps, and massages offer a something-for-everyone spa treatment.
"Everyone is doing thalassotherapy in France. There are centers for every income," says Fournier. The idea is that seawaters — rich in minerals like magnesium, potassium, calcium, sodium, and iodine — help nurture skin. The salty waters can also help detox. "Whatever your skin and body needs, it will take from seaweed and seawater. Whatever your skin and body have excess of, it will detox it," Fournier says. "You see the difference in your skin, and it helps you feel lighter."
While in New York, Fournier mimics the experience by bathing in seaweed baths with products brought back from France. "I smell like no tomorrow," she admits. "It smells so bad, but it's amazing in what it brings to your skin." Here, health food stores sell similar products, like The Seaweed Bath Company's
Ocean-Fresh Whole Seaweed Detox Bath
.
Illustrated by Ammiel Mendoza.
They leave their hair alone. You'd be hard pressed to find a French woman who washes her hair every day. And, for many, washing every other day is excessive, too. Since many French women believe that frequent washing can strip the scalp of nourishing oils, hair washing is reserved for a couple times a week, max. "You don't have to wash it every day," Guiliano says. "That's highly controversial, though it's now it's changing slowly in the United States."
When hair is washed, according to Guiliano, it's done gently with circulation-stimulating massage-like strokes, not with hard scrubbing to the scalp. But, what about greasy scalp and dirty environmental pollutants that glob onto hair? Many French women flip their heads to face the belly, and with a quality boar-bristle brush, brush the hair from scalp to tips to rid the hair of dirt and give it "breathing" room. Guiliano notes that many women don't skimp when it comes to brushing: Like Marcia Brady, many perform this ritual nightly.
Finally, Guiliano says that for some women, the key to gorgeous cuts that seem to fall in the perfect place involves the calendar. Some stylists direct women to come to the salon on a full moon, as that's when astrology says haircuts, trims, and coloring will provide for fuller, thicker, faster-growing hair.
They indulge in injections — but not the ones you'd think.
French women may not get facelifts, but they certainly may seek a helping hand — as long as that hand has a feather-light touch. And, since Botox may be too intensive (or not natural enough) for some, many French women turn to mesotherapy, according to Jett. Mesotherapy is doctor-administered microinjections of vitamins, minerals, and amino acids. Teeny shots are administered into the mesoderm — or middle layer of the skin — to stimulate the metabolism and production of collagen and elastin.
In addition to being natural, these injections are popular because the results aren't radically delivered overnight. "The French have been doing this forever," Jett says. "And, the guiding principal is natural. French women don't want radical change or to see what people pay for. They much prefer to come back after a vacation and have people say, 'You look rested!' than 'Have you had work done?'"
Illustrated by Ammiel Mendoza.
They get polished...without polish. As oddly gratifying as it can be to look down at your sandal-wrapped feet and see a perfect 10 of slickly-polished toenails, we all know how the constant polish can dry, yellow, and strip our nails. Enter the medical pedicure, a service popular in France. According to Jett, the 40-minute, approximately 30-euro procedure employs a medical coat-donning, government-licensed practitioner to groom the feet and toes by using shiny, sharp instruments. The result? Baby-soft feet and perfectly-cut and buffed nails.
"You have never felt so pristine and clean in your entire life," Jett says. "You can be pampered and you can have the whole la-di-da thing done in the most extraordinary spa, and there's something completely different about a medical pedicure. There's no polish, of course, but you can't stop looking at your feet and you can't stop touching them — they're so smooth."
They get massages — for their faces. A facial in France often involves face massage or facial exercises to tone the face. "When you get a French facial, you get a really great massage," says Guiliano. "You get a massage like that, and you feel like a new person when you get out."
One need not visit the facialist to partake in these so-called toning exercises. Simple gestures like winking the eye, mouthing vowels, and massaging the cheekbones are all face exercises that women practice at home, according to Guiliano. "We've always done it," she says. "No French woman would admit it, but we all do it."
Illustrated by Ammiel Mendoza.
They take to the waters. Since royals stocked their quarters with cornflower water and rosewater in Versailles, so have French women used specialty waters for beauty pursuits. Eau de bleuet, or cornflower water, and Eau de rose, or rosewater, often do the duty of modern-day toners for many French women, who spritz them after cleansing, according to Jett.
"We have very hard water in France," Jett says. "These thermal water spring waters are the best to rinse with because they're kind to your skin." Even no-rinse cleansers can use the boost of thermal waters. Jett, who uses the
Vichy Pureté Thermale 3-in-1 One Step Cleanser
at the suggestion of world-famous facialist Joëlle Ciocco, sprays the micro-ionic mist on her skin after cleansing.
They see anti-aging as an attitude, not a product category.

Jeanne Damas, a personal style blogger and the face of Macy's new Maison Jules line, has an anti-aging strategy that doesn't quite involve prestige product lines or doctors with needles: She doesn't worry. "A woman can be beautiful at any age. I think my mother is very beautiful, so I'm not scared of aging," she says. "French women have a very natural approach to beauty. For us, it's important to look natural, I think. Be happy for who you are and make the best of it."
Or, when push comes to shove, there's always mesotherapy.