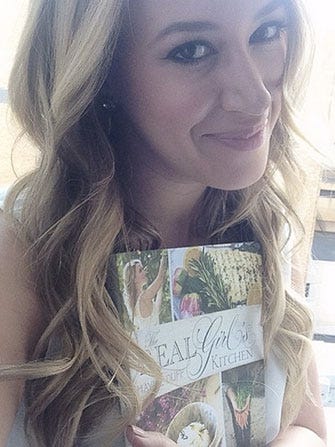 Photo: Courtesy of Haylie Duff.
Brunch can be a tricky thing to master. It's not like you can just throw together some frozen cinnamon buns and fruit salad and still impress your guests. Nope, brunchgoers are picky, which is something that Haylie Duff knows all too well.
The actress/singer/songwriter has been hard at work the last few years as a chef and party extraordinaire — see her
blog
or her book,
Real Girl's Kitchen
, for proof. She's even the host of her very own cooking show on
Ora.TV
, in which she devotes her time helping her less culinary-inclined fans learn the tricks of the trade.
Duff decided to spread some of that cooking love to R29, in the form of her two favorite brunch recipes. On top of that, you can check out a sneak peek of her upcoming episode dedicated to Sunday Funday. Just don't forget the mimosas.
"These quinoa bites are my fiancé's favorite thing to snack on! I made these for a football party at the house, and none of the boys even really knew they were made of quinoa. I love that they are packed with lots of protein. Plus, the flavor options are endless, so don't be afraid to experiment!"
2 eggs 1 cup cooked quinoa 2 tbsp goat cheese
1 cup roughly chopped spinach

Generous pinch sea salt

Generous pinch freshly ground black pepper

Extra goat cheese to place on top — about 1/4 teaspoon on each
Preheat oven to 350 degrees. Beat eggs together in large bowl. Add all other ingredients in bowl and mix together. Fill mini-muffin pan 3/4 of the way full with mixture and add extra dollop of goat cheese on top and a bit of freshly ground pepper on top. Bake for 7-9 minutes.
"I love this dish because it is so fresh and full of flavor! The bright dill complements the tuna and capers so well and really cuts the richness of the créme fraîche. It is my go-to dish every time I throw a brunch at my house!"
1 can high grade tuna in water (yellowfin or albacore) 2-2.5 tbsp créme fraîche 2-3 fronds of dill 2 eggs (medium boiled)
Handful of mini heirloom tomatoes, sliced in half

1-2 thinly sliced caper berries in rounds (depending on size)

Salt

Pepper
Drain Tuna. Mix Tuna and crème fraîche in small bowl and add the leaves of about two fronds of dill. Add salt and pepper. Medium boil two hardboiled eggs, about eight minutes and place in an ice bath. Yolks should be solid but still a little runny in the middle. Place tuna salad on a plate and sprinkle halved tomatoes on top. Peel eggs and cut in half and place on top as well. Scatter caper berries on top. Garnish with dill and freshly ground black pepper.