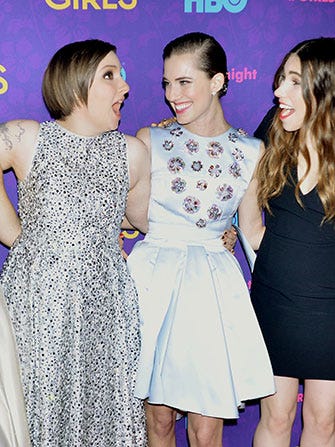 Photo: BEImages/Henry Lamb/Photowire.
You guys! Allison Williams,
Girls
star and notable long, shiny-haired person, is engaged.
People confirmed
tonight that Ms. Marnie is getting hitched to her boyfriend Ricky Van Veen. Now, if we can get this guy to hang out with Kate Winslet's husband Ned Rocknroll, baby,
you got a stew goin'
we'll have quite a party going for ourselves.
Williams has pretty much been cruising through fame and success lately, like most anyone with a connection to the hit HBO show. It's way too early for any word on whether she'll pick any
Girls
castmates for her bridal party. But, we can say one thing with confidence: Lena Dunham is having quite a day. She was tweeting earlier that she couldn't confirm anything regarding
Adam Driver's upcoming role in Star Wars
, and we can only imagine she was bombarded with all kinds of questions about this business. Not by us, though. We'll just be here, awaiting our save the date. Any day now.