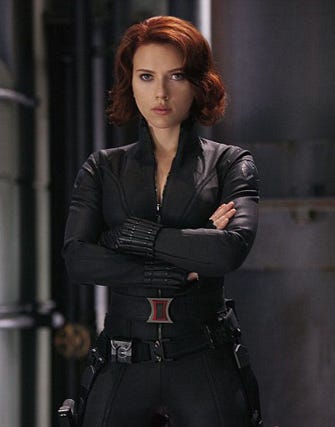 Photo: Courtesy Marvel Studios.
Variety
has confirmed that Scarlett Johansson
will
be starring in her very own Black Widow movie sometime after summer 2015. Johansson's character, Natasha Romanoff (a.k.a. Black Widow), has already appeared in three Marvel Studios films —
Iron Man 2
,
The Avengers
, and the upcoming
Captain America: The Winter Solider
. By summer 2015, she will have presumedly added another under that badass belt, counting
The Avengers: Age of Ultron
.
As Marvel Studios president Kevin Feige says, "We've already started discussions with Scarlett about the idea of a solo movie and have begun putting together concepts, but The Avengers comes first." Nerdy stuff, we admit, but there is something important about the announcement.
A Black Widow movie would mark the first solo-screen feature for a major female comic-book superhero since 2005's disappointing
Elektra
. The conversation about the lack of strong female characters in the multibillion-dollar superhero space has been growing louder and louder each year. Despite Warner Bros. multiple attempts to get a Wonder Woman film off the ground, it seems Marvel will beat them to the punch. It'll be a great opportunity to see if the prevailing Hollywood wisdom that audiences just don't want a woman-led, comic-book spectacle is wrong (and a good chance to see ScarJo do karate). In short, good news all around. (
Variety
)