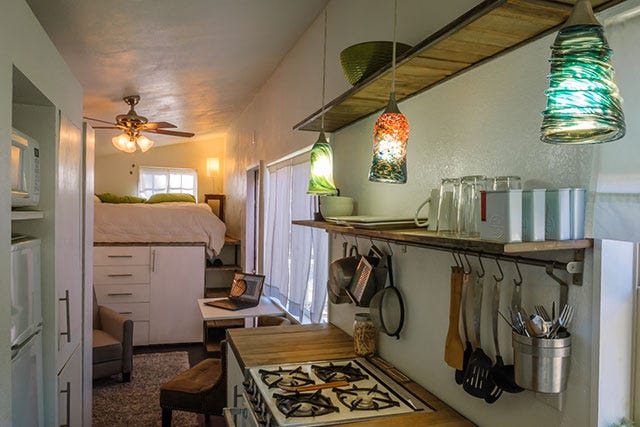 Photo: Courtesy of Macy Miller.
What defines your ideal pad? Sprawling gardens, an infinity pool, and grandiose décor would most likely make our must-have list. But, for
Macy Miller
, less definitely is more. The 27-year-old architect from Boise, ID, realized a lifelong goal this year and built her dream home from scratch. Did we mention she did it on a shoestring budget? Incredible, right?
Spending just over $11,000 dollars on the 196-square-foot abode, aptly named "Tiny House," Miller began work on the project in December 2011. It was her mission to avoid mortgage lenders after previously facing a stressful foreclosure. The super-talented architect — with a little advice from her construction-savvy family and friends — finally completed her self-built home earlier this year.
The structure is constructed wholly out of sustainable materials and features every amenity needed for comfortable living, including a fully functioning kitchen, bedroom, bathroom, and even a $2,000 compost toilet (which happens to be the priciest appliance in the house). Miller made fantastic use of very little square footage with cleverly concealed shelving and "dead space" used for storage.
Speaking to Refinery29 about her ambitious project, Miller explains, "The house is wonderfully sufficient. We have very cold winters here, [but] the house is intentionally very well insulated." Sharing the home with Miller is her Great Dane, Denver, who also enjoys lazing around his new digs. "Denver loves it; even though he is a big guy, he is very well suited for a tiny house, which shocks most people who aren't familiar with Danes."
It wasn't all smooth sailing for the architect. Miller fell from the roof and broke her back while building her home. Determined to put a roof over her head without breaking her strict budget, she got around the site on crutches for several weeks after the accident.
So, now that construction is finished, what's up next for Miller? Motherhood! She's expecting her first child (a girl) with her boyfriend. The family of three will live in the Tiny House — for the time being. Miller realizes this is not a long-term solution and the couple are planning on building a new sustainable small home sometime in the future.
We're not sure what we admire more: Miller's defiant spirit in the face of injury and financial insecurity or her ability to design and build a gorgeous home on the most modest budget ever. Pretty genius, either way.