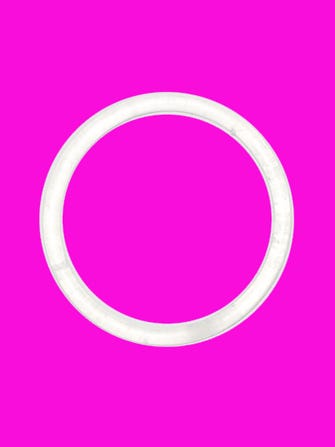 Photo: Courtesy of NuvaRing.
A new article in Vanity Fair delves into the underreported risks associated with the NuvaRing. We all know there are dangers with using hormone-based contraception — from mood swings and lethargy to increased chances for cancer and rare blood clotting, which is among the most dangerous. But, as anyone who has read the pamphlet accompanying her BC can tell you, young nonsmoking women have a very low risk of developing clots.
Even so, it seems that the concern for developing fatal or debilitating clotting is much higher in NuvaRing than in other hormonal BC methods. This is because the progestin used in NuvaRing is slightly different than older forms of the drug commonly found in oral contraceptives. Vanity Fair's article examines two frightening cases where NuvaRing possibly contributed to death or disability.
One woman, Erika Langhart, died of a pulmonary embolism at just 24. Her mom has since dedicated her life to raising awareness around the risks of NuvaRing. For their part, Merck (the manufacturer of NuvaRing) is keeping quiet on the controversy. Of course, some risks are inevitable with any medication, but if these allegations against this commonly used drug are true, then it's a scary fact for the women who rely on it. For more on how the dangers of NuvaRing have been overlooked, read the entire story after the click. (
Vanity Fair
)