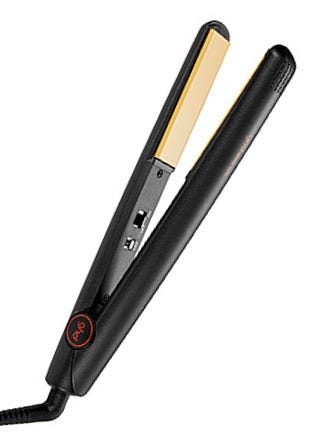 We're not ashamed to say that our hair is pretty darn important to us. But, there's one thing we're not willing to compromise on, even if it means giving up perfectly straight, smooth strands: safety. So, when we read about a study that shed light on the dangers of hair straighteners, we were more than a little taken aback. Yes, we've all had the occasional flub (and resulting burn) when it comes to handling our flat iron, but it seems we've now got a genuine safety-related issue on our hands.
Researchers at the Pediatric Burn Centre in Bristol, England revealed it's not always flat iron users themselves getting burned, but those around them — with children being particularly susceptible. The Centre sees roughly 45 cases of flat-iron-inflicted burns per year, eight of which were so serious, they required skin grafts.
Even if you don't have little ones running around your vanity space on the reg, it goes to show that a simple mistake can have big consequences. How many times have we haphazardly reached for our flat iron before discovering at the last minute it's still plugged in? We might be wise to invest in a straightener like the one pictured here, which shuts down automatically after thirty minutes of non-use.
So, for safety's sake, read up on the rest of the study over at
The Independent
and join us in taking a little more care when it comes to fussing with flat irons. (
The Independent
)

Like this post? There's more. Get tons of beauty tips, tutorials, and news on the Refinery29 Beauty Facebook page. Like us on Facebook — we'll see you there!