Saturday Night Live has been home to some of the greatest comedians of our time — Steve Martin, Chris Farley, and Tina Fey, to name a few. Though Bill Hader and Jason Sudeikis have announced their departure from the venerable Saturday night institution, the show, as they say, must go on. So, as SNL enters its 39th season, we're looking towards future icons in the making. Ahead, meet the new faces of comedy.
Where He's From:
This is Bennett's very first year on SNL. He's been a regular writer and performer with the Upright Citizens Brigade for years now, and he also co-founded a sketch comedy group. But, you'll recognize this funny face from an entirely different place: Those hilarious AT&T commercials. You know, the ones with all the adorable kids and that guy in a suit squeezed into a kiddie chair? It turns out that those ubiquitous commercials landed him the gig of a lifetime.
Photo: Courtesy of NBC.
Where She's From:
Aidy kicked off her career in Chicago, where she held down the fort as part of the company's e.t.c. Stage. She's back for her sophomore year at SNL to reprise her "Girlfriends Talk Show" sketch, and, hopefully, give her Candy Crowley impression another go.
Photo: Courtesy of NBC.
Where He's From:
It's hard to believe that our favorite Nickelodeon character is heading into his 11th season. If that doesn't age us, we don't know what will. Thompson is probably best known for his crack impressions, with fan favorites including Whoopi Goldberg, Bill Cosby, and the Rev. Al Sharpton. We also have a personal soft spot for his role as the boisterous talk show host on "What Up With That."
Photo: Courtesy of NBC.
Where He's From:
The curly-haired comedian has been on the show for five years already, but he's also got quite the budding career outside of the Lorne Michaels world. He's done stints on Girls and Happy Endings, and he also had a supporting role on Grown Ups 2. He's done impressions of everybody from Snooki to Chris Christie, but we're hoping this season sees several reprisals of his character, "Drunk Uncle."
Photo: Courtesy of NBC.
Where He's From:
This is Jay's fourth season, so even though he's not a total veteran on the show, he's been around the Hollywood block. He started his career touring local comedy clubs around the country, and then landed a role in Lola Versus. He spent his hiatus shooting alongside the likes of Kevin Hart, Ice Cube, Anna Kendrick, and Bryan Cranston. Inside the studio, he's been known to do a mean Barack Obama impression, so we're sure we're going to see quite a lot of him this season.
Photo: Courtesy of NBC.
Where She's From:
Move over for another UCB alumna! Kate made a name for herself performing a series of one-woman shows, and joined the SNL cast last spring. She jumped right into the thick of things, doing turns on Weekend Update and playing characters like Ann Romney and Ellen DeGeneres. You might also recognize her from Forbes' 30 Under 30 list — yep, she's just that good.
Photo: Courtesy of NBC.
Where She's From:
She entered her freshman year at SNL after stints with Second City, the Chicago Sketch Fest, and the Edinburgh Fringe Festival. Even though she's a major newbie on the show, she shot to instant fame with her Weekend Update character, Girl You Wish You Hadn't Started a Conversation with at a Party. The sketch is already a classic among the ranks of Stefon — yah, we said it.
Photo: Courtesy of NBC.
Where She's From:
Anyone who can do impressions of Kim Kardashian and Barbara Walters is a-okay in our book. She came to the show from the Groundlings in L.A. in 2009 and immediately shot to fame hilarity. She's shone bright in all kinds of awesome skits, but seriously guys, her Kim Kardashian is unreal.
Photo: Courtesy of NBC.
Where He's From:
If the past 13 years have felt like the best of your life, that's because Seth Meyers has kept you company every Saturday night along the way. Seriously, he graduated from Northwestern and is a total babe. As host of Weekend Update, he's also responsible for fielding the awkward comings on of his guests, like Stefon. Meyers will be leaving the cast in February to take on the Late Night scene, so soak up that goodness while you can.
Where He's From:
He made a name for himself in the Chicago improv theatre scene, and later went on to create a web series "7 Minutes in Heaven," where he interviews celebrities in a closet. Genius, right? A Michigan native, he's also made appearances on Portlandia. This is his first season on SNL, but if his web series is any indication, we're expecting lots of laughs from this guy.
Photo: Courtesy of NBC.
Where She's From:
She's originally from Cleveland, but calls Chicago her comedic home. Previously part of improv team Revolver and a puppet show called "Felt," she's also interned at Sesame Street, which basically sounds like the best job of all time. You probably know her for her amazing Miley Cyrus impersonations, which we expect she'll have to drastically change for her fourth season as a cast member.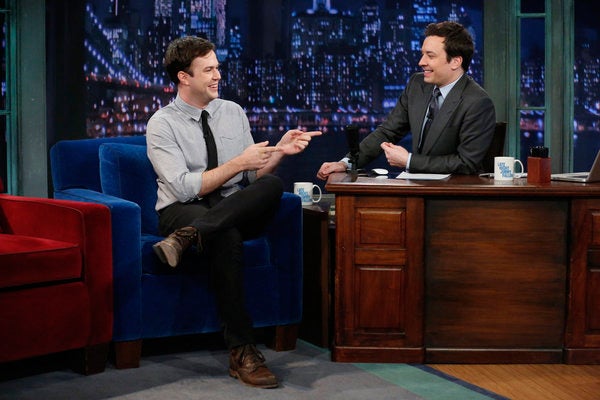 Photo: Courtesy of NBC.
Where He's From:
Why do we love Taran Killam so much? Because he has the same, deep appreciation for Robyn that we do. This California native took his start in the L.A. comedy scene as a member of The Groundlings. Though he's most famous for his Brad Pitt and Eminem impersonations (as well as the proliferation of the Sloppy Swish dance), he's catapulted into other shows with appearances on Community, How I Met Your Mother, and Scrubs. As he enters his fourth season, we really want to see more videos like the one below.
Photo: Courtesy of NBC.
Where He's From:
He co-founded the Good Neighbor Sketch Group, which also features fellow cast member Beck Bennett. Originally from San Diego, he studied film at USC before making his way east. You've probably seen him on Parks and Recreation, but he's also made a sneaky appearance in a Car Fax commercial.
Where He's From:
He's a dying breed in that he's an actual, tried-and-true New York City native. He's worked with the Upright Citizen's Brigade and Jimmy Fallon, but he's also the co-founder of SeriousLunch.com. Personally, we're fans of his Robert Downey Jr. impersonations, but we also have a deep respect for his creation of "baguetting."
Where He's From:
Babe alert! This brand-new cast member started his comedic career immediately after high school in Iowa, where he performed throughout college. He's been a contributing writer for College Humor and has performed with Second City Chicago. If you went to last year's New York Comedy Festival, he was one of the Top 10 Comics To Watch. Oh, and if you're looking for a quirky Tumblr to add to your reading list, check out Wheelan's This Is Cool, Right?
Where She's From:
This new cast member's self-produced YouTube channel has over 12 million hits, and it's no wonder — she's seriously funny. Originally from Texas, she's also worked with Funny or Die, College Humor, and Cracked.com. We love seeing a growing cast of funny ladies on SNL.