Photo Courtesy Of Laura Barcella; Illustrated By Ammiel Mendoza.
"Wait, really? You're serious?" my mum asked incredulously last September as we sipped coffee in her kitchen. She appeared to be gripped by an emotion hovering somewhere between shock and glee. I was visiting from San Francisco, and I'd just told her I was thinking about moving back home to D.C., the city I was raised in (and the one she'd never left).
Like so many other angsty-but-privileged kids desperate to dump the yawning stagnation of their birth homes for glossier locales, I'd hightailed it out of the area the second I graduated from high school. I headed to college in Amherst, Mass., before living in NYC for five years and then San Francisco for almost nine.
As far as my mum had known — as far as I had known! — I'd never so much as flirted with the idea of returning. Visits? Sure. Relocation? Never. Never EVER. Then things...changed. My dad died. And, my mum got sick. And, I started caring less about what the city I lived in said (or didn't say) about me, and more about growing up and showing up for the people I loved.
Let's start at the beginning: the D.C. of my youth, circa the '80s and '90s. As far as hometowns go, it wasn't the worst place to grow up. A city girl through and through, in my miserable, misanthropic teen years — when all I cared about was 1) being deemed f*ckable, and 2) being deemed "cool" by the stoners who hung out in the "Smoking Lounge" (the Safeway parking lot next to my high school) — I'd managed to drum up a hint of enthusiasm for the area's proliferation of underground, cultural offerings. (Hi, free Fugazi shows in the park).
Photo Courtesy Of Laura Barcella; Illustrated By Ammiel Mendoza.
Still, I never felt fully "myself" there. D.C. seemed stuffy — unvarnished and flat, like an old penny. Growing up, it seemed like every person I passed on the street was a boring, buttoned-up, Happy Normal Adult who worked in government or finance or something equally dry and intimidating. Plus, having always wanted to be a writer, I was afflicted with all the stereotypical writerly baggage: depression, escapism, and gnawing insecurity tempered by a grandiose sense of being somehow different from everyone around me.
As a teenager, I comforted myself with fantasies of how Everything Would Change once I left D.C. — in New York or San Francisco, I'd find myself and I'd find my people. No more misery, no more isolation or insecurity.
Plus — I might sound like an ass for saying this — I thought I was too cool for D.C.. Or, more accurately, I thought I needed to prove I was too cool for D.C.. And, to do that, I had to go somewhere "better" — to show up all the crusty guys who'd ignored me in the smoking lounge and the prissy sweater girls who'd rolled their eyes at me in AP French. So, after graduating from college in 1999, I immediately moved to NYC ("take that!"), the land of lit readings and late shows and low-key celebrity spotting and art parties every night; the land of grit and glamour and guts; the artistic mecca I'd idealized since I was young.
If I could prove myself there, I could prove myself anywhere. Right?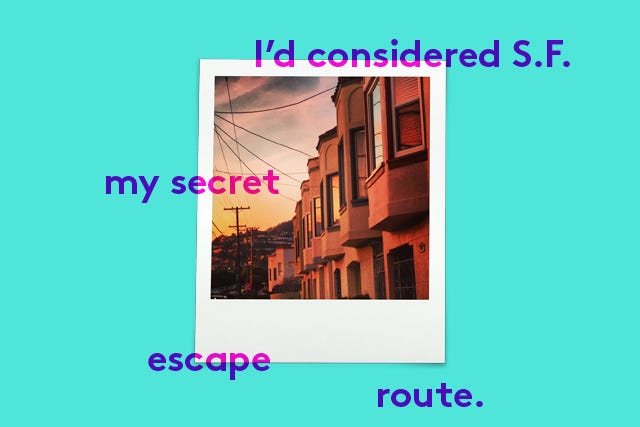 Photo Courtesy Of Laura Barcella; Illustrated By Ammiel Mendoza.
Or....not. I loved New York, but after a while it became painfully clear that I'd failed to outrun my issues: Now I was just dealing with them in an overstuffed city of eight million people precariously perched on top of each other, fighting for air and food and men and jobs. I started feeling like a zombie gerbil on a wheel, fruitlessly spinning but never getting where I wanted to be (that ever-elusive sense of home). So, after five years there, when a live-in boyfriend broke up with me, I decided to start over and prove myself (again) in, yes, San Francisco.
I'd put a lot of pressure on the City by the Bay. I had loved it ferociously since the first time I'd visited at age 15 — with its colourful Victorians, colourful people, and palpable passion for all that is weird. It had seared its way into my heart. Ever since, I'd considered S.F. my secret escape route — the place I'd run to make everything OK; the magic city where I'd feel free, and like me. I was finally...home.
For a long time — about half of the eight-and-a-half years I lived there — it worked. I'd found home! And not only that — a forever home (to steal a term from the pet-rescue scene). The city's natural beauty slayed me on a daily basis, while its ridiculous populations of hipster bikers and vegan raw foodies and polyamorous Burning Man junkies amused and enraged me. In some ways it felt like the opposite of stodgy old D.C.. I loved it so much, I bought a house there, imagined raising possible future kids there. I ignored the nagging reality that my love life had been, essentially, dead in the water since the moment I'd arrived — yes, the San Francisco dating scene was, at least for me, even worse than New York's — and lots of the people I'd met there (even some close friends) seemed hopelessly flaky.
But it wasn't until last fall, when my mom got sick with a months-long mystery illness, that things seemed to shift, and S.F. started feeling less like a permanent home and more like a great place to visit. My father, who'd also lived in D.C., had died of bladder cancer in 2010 after an excruciating two-year deterioration. Those years were the hardest of my life, especially because I was too far away to help, too physically removed to piece together the reality of his diagnosis and what it meant. While he was sick, I flew to D.C. to visit him every few months, but I had a full-time desk job in Silicon Valley and I couldn't — didn't — get there as often as I should. When it became clear that the end was approaching, I arranged to work from my mum's house in D.C. for a month, but before I could do that, he died.
Photo Courtesy Of Laura Barcella; Illustrated By Ammiel Mendoza.
The guilt I felt about not being there wasn't easy to assuage; I still feel it. So when my mum began making trips to the emergency room last fall for an array of alarming-sounding symptoms (heart palpitations, high fevers, and lungs full of fluid), I kind of freaked out. I was an only child, I wasn't close with anyone else in my extended family, and, simply put: I couldn't bear to watch another parent slowly decline from 3,000 miles away. Her bizarre illness lasted four months. Visiting her in September, I was surprised to find myself suddenly, miraculously, actually kind of (gasp!) enjoying my hometown. Somehow, at 36, D.C. and all its ingrained familiarity had started to look comforting, and comfortable, and...right.
I was walking around Dupont Circle, eating frozen yogurt on a bench on Connecticut Avenue, seeing matinees with old friends from high school, listening to the soothing sound of crickets chirping in the still-sweltering end-of-summer heat (how I'd missed that sound in San Francisco!). For the first time ever, I started to feel a gentle inner tug toward D.C., even though I didn't have tons of friends there anymore. Moving there would be, in many ways, like starting over from scratch. But when I tried to imagine what my life would look like, it didn't (totally) scare me, and I didn't feel like I'd only be doing it to be closer to my mom.
That's not to say there isn't a vague sense of stigma around moving back to one's hometown, despite the fact that tons of people do it ("boomerangs" is the name for those people). My San Francisco friends were predictably surprised when I told them. "But...D.C.? Why D.C.? I've never once heard you talk about wanting to live there. Why not just go back to New York?" my friend Janna implored as we walked my dog.
I understood her concern, and I can't claim I didn't worry, at least slightly, that moving to D.C. would be seen as a "step down" from the ostensibly more glamorous cities I'd lived in before. But was I really going to let a decades-old, insecurity-driven preoccupation with proving something — I don't even know what — determine where I chose to live? I was done with the stoners in the smoking lounge. I was done with the myth that a physical place could "cure" me. D.C. called to me for different reasons — reasons that felt somehow deeper. As one writer noted in a Salon story about moving home: "People don't just pick up and move to a place where there's low taxes. They move somewhere that feels familiar."
Photo Courtesy Of Laura Barcella; Illustrated By Ammiel Mendoza.
I imagined being closer to the comfort of my mom — someone who never bailed at the last minute, someone who had never failed to love me easily and without hesitation. I imagined myself wandering along streets I'd walked in high school and elementary school and preschool and before. I imagined seasons — real ones! four of them! — and disgusting, sticky, perfect summers like the ones I'd loved as a kid. I imagined cold brick and whipping winds and grey skies. I imagined building a life and reconnecting with old friends on the East Coast.
I no longer felt I had something to prove. So, I started planning a move. I wasn't anywhere near ready to sell my house in San Francisco — I love it with a mildly deranged passion — so I moved my furniture into the garage, rented the place out to a nice married couple, and drove myself and my aging, incontinent dog 3,000 miles across the country, to a cute, old apartment in a quiet but central neighbourhood of Washington, D.C..
I can't say I didn't have doubts — I just got here two weeks ago, and I still have doubts! But, I'm giving my hometown another shot, and aiming to stay open to, well, anything. D.C.'s changed a lot since I left at 18. And, if nothing else, it'll be nice to be closer to family and friends for a while. So I'm looking at this as an experiment, and reminding myself that I can always go back; San Francisco isn't going anywhere. And for now, at least, I'm home.