Things feel a little surreal in London this week. It's snowing (didn't the Met office get the memo that we want to wear our spring wardrobe?) for one thing, and now news has come through that a
corgi called Lizzy has been fired for disobeying the Queen
.
Rest assured, her Royal Highness is not getting rid of any of her beloved pups, rather
it is official impersonator actress Helen Mirren who the pooch has run into difficulties with
. The much-beloved star features in the West End play,
The Audience
, which focuses on the Queen's relationships with various Prime Ministers, throughout her reign.
Some scenes are set in Balmoral where Lizzy and her co-star Rocky are meant to run on stage when called by the actress. Unfortunately, for 16 consecutive preview performances, Lizzy couldn't find the dramatic inspiration to do so. And apparently, that was the limit. The play's director, Stephen Daldry, commented on Lizzy's sudden departure: "She was excited the first three times, and then I think she decided she didn't want to be an actress anymore. She decided to retire from the British stage." Whatever the reason behind the canine's short-lived career, we can't wait to see Rocky and new replacement Coco shaking their tails at the Gielgud theatre soon. In fact we'd venture out into the snow for it. (
Business Insider
)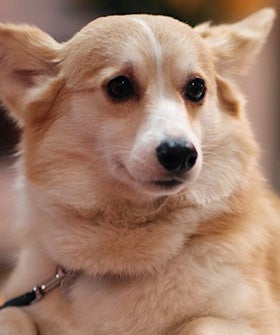 Photo: Via Jezebel