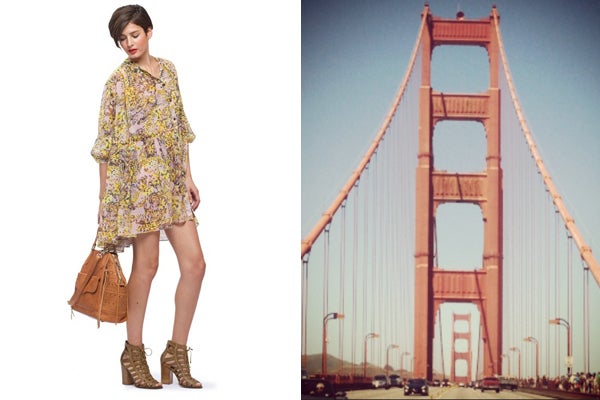 While it sounds cozy to head straight home right after work, wrap yourself in a throw, and catch up on bad reality TV (hello, ANTM finale!) — resist the urge. We have a pretty sweet lineup that will make lounging on the couch seem like the last thing you want to do. And we know you're probably on pins and needles waiting for the arrival of Memorial Day, so we've concocted a jam-packed agenda of cool happenings to take your mind off the fact that it's the beginning of the week. Don't worry! You'll be having such a grand time and it will be Friday (and a three-day weekend) before you know it. So, peep our picks and be sure to pencil in these exceptional weekly events.
Rebecca Minkoff Sample Sale

Forget Bay to Breakers! Marathon shoppers, set your alarm clocks early, and make a mad dash for Rebecca Minkoff's sample sale happening this Sunday. If you're looking to blow some hard-earned dough, you'll save big on Ms. Minkoff's cult bags, of-the-moment shoes, and It-Girl pieces — all deeply-discounted, waiting for a special spot in your closet!

When: Sunday, May 20, 10 a.m. to 4 p.m.

Where: Madrone Studios, 1417 15th Street (between Shotwell and Folsom streets).
Ted Allen Personal Appearance

Remember Ted Allen — the wine and food expert from Queer Eye for the Straight Guy? With his posh thick-rimmed frames and mad kitchen skills, he helped transform clueless-in-the-kitch dudes into cooking connoisseurs. If it rings a bell, then there's no way you'll want to miss Ted Allen in conversation with Joey Altman at the JCC. You'll also want to pour through the pages of his new cookbook, In My Kitchen: 100 Recipes and Discoveries for Passionate Cooks, which comes free with your ticket!

When: Monday, May 21, 7 p.m.

Where: Jewish Community Center of San Francisco, 3200 California Street (between Presidio Avenue and Walnut Street); 415-292-1200.

Tickets: $40; Buy here!
Chinatown Culinary Tour with Joyce Jue

Taste the streets of Chinatown with local award-winning cook and author, Joyce Jue. The wise lady will take folks on a tour of Chinatown's tea rooms, old-world cafes, outdoor produce stands, and other hole-in-the-wall haunts. You'll even get to sample some of her bite-sized treats. Get tickets here. Hello, feeding frenzy!

When: Wednesday, May 23, 10 a.m. to 2 p.m.

Where: Chinatown, Grant Avenue and Bush Street
Golden Gate 75th Anniversary at the Clift Hotel

Time to put your fancy pants on and hold that international orange clutch close to your heart as you toast a happy birthday to the Golden Gate Bridge. Make new friends over cocktails from another era, dance to live swing music, and catch screenings of The Maltese Falcon, Fog Over Frisco, and Song of the City — classic movies all filmed on location in our fair town! It's a '30s-themed affair, so hit up Pinterest for some inspiration.

When: Friday, May 25, Saturday, May 26, Sunday May 27, 8 p.m.

Where: The Redwood Room at The Clift Hotel, 495 Geary Street (at Taylor Street); 415-775-4700.
Mr. Marina Competition 2012

And the search for Mr. Marina rages on! While we're all for cheering on cute dudes in swimwear (yes, Mr. Marina does have a swim portion!) and perusing some serious eye candy, we're also all about coming together for a good cause. Each contestant for Mr. Marina had to raise funds for the Leukemia and Lymphoma Society to participate. Dudes with a heart of gold are winners in our book (even if they do live in the Marina).

When: Wednesday, May 23, 7 to 11 p.m.

Where: Mezzanine, 444 Jessie Street (between 5th and 6th streets); 415-625-8880.

Price: $40; Buy tickets here

Photo: Via Rebecca Minkoff, Anna-Alexa Basile