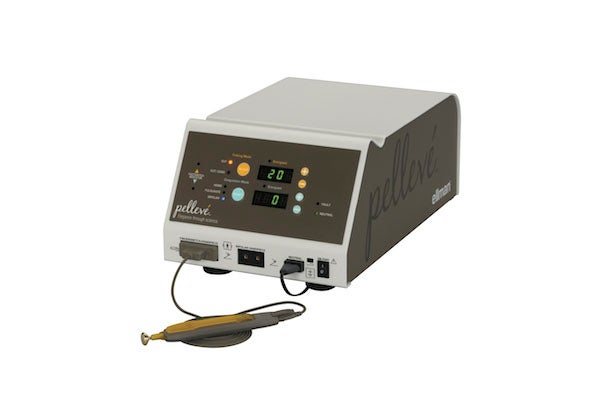 While I can make a mean Arrabiata Pasta, and I know the difference between "allusion" and "illusion," there's one thing that always manages to derail my confidence: my skin. My pores are huge, I get an oily T-zone every two hours, and I still haven't been able to ditch my monthly reoccurring zits.
Suffice it to say, I have just a few qualms about the skin I was born with. But, now another just cropped up — my first set of fine lines. Now, I'm in my mid-20s and don't have an alarming set of wrinkles. But medical aesthetician Carissa McCormack, of the Lorenc Aesthetic Plastic Surgery and Medical Spa, says 25 is the age when your skin begins to screech to a halt. Your skin cell turnover rate slows down, your collagen production tarries, and your skin begins to thin, which will inevitably cause sagging.
So, when I had the chance to try a new radio wave frequency treatment that promised to painlessly soften wrinkles and plump your skin, I jumped. Pellevé works by emitting radio waves, which heat up the dermis, breaking down your collagen. Your body perceives it as a wound, so it kicks into repair mode to make more skin cells. The result? Fresh, plump new skin. And, to boot, McCormack says it feels almost like a warm facial massage.
I'm here to tell you that it does not.
While Pellevé is definitely a huge improvement from its predecessor, Thermage (which McCormack says feels like an ice pick was shoved into a flame, then shoved into your skin constantly) the new version is no walk in the park, either.
McCormack worked the small, metal-tipped wand in circular motions on my skin, gradually heating each section to about 41 degrees Celsius. Since my tolerance level for pain is relatively high, I didn't make a peep, even when it got to be a bit intolerable around my eyes and on the temples, which is where your skin is the thinnest.
On the plus side, the pain is fleeting, and feels almost like if your hairdresser placed a blow-dryer too close to your earlobe. Since Pellevé is stimulating your skin cells to produce their own collagen, the results are much more natural and subtle than injections. And, unlike lasers, there's no downtime to this procedure. To wit, I went on a date a few hours later and for once, didn't feel self-conscious.
Pellevé makes your skin instantly feel more taut — a happy side effect from dermal swelling. The next morning, my skin still looked the part; my co-worker even complimented me, saying my skin looked even and dewy.
One 45-minute session's results can last up to half a year, but the fact is collagen takes 90 days to grow. So, to see marked improvement, McCormack says you should get a treatment once a month for four months. The downside: With each treatment costing $1,000 for a full face ($500 for half), naturally rejuvenating your collagen doesn't come cheap. But, as so many have said before, what's the price for beauty?