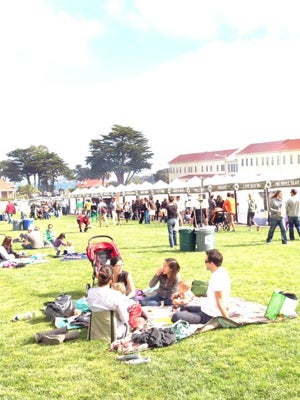 We almost never turn down the opportunity to soak up some sun while lounging lawn-side. And as the warm days rapidly dwindle, we're attempting to make the most out of every glistening beam of S.F. light. So, you can color us obsessed with
Off The Grid
new, only-in-October
string of fancy-fare picnics
. Seriously, it is kind of the best way to spend a Sunday afternoon, with grub by some of the city's coolest restaurants (Dixie, Nopalito, Bar Crudo, Mission Cheese, Three Babes Bakeshop, and so many more!) you can eat (and drink) your way into an end-of-week oblivion.
Yep, yummy drinks (Bloody Mary, anyone?), friendly faces, duds from local retailers like Brooklyn Circus, and lawn games (!) are what you'll stumble upon at this sweet soiree. If you aren't completely sold yet, it's free to get in — just be sure to bring some skrilla in case that tummy starts to grumble, which we are sure it will considering the selection of stellar stands. Um, you'll know where to find us next week!
When: Every Sunday through October 28

Where: Off The Grid Picnic, Main Post Lawn, The Presidio (between Montgomery and Graham streets); 415-339-5888.

Photo: Courtesy of Off The Grid