It feels like it's been years since we basked in summer's heat, no? But, in all of our nostalgic glorification of this sunny season, we tend to forget about the havoc that summer can wreak on our beauty routines. This summer, though, we're going in prepared — we're going to be the Boy Scouts of summer beauty prep.
From tackling our greasiness to brightening our lips, here are the beauty team's top picks for getting ready for summer's sky-high temps and body-baring outfits. We're not about to let a sweltering couple of months get in the way of anything — and here's how we're going to do it.
1.
L'Eau de Missha in Not Over You
"When summer comes around, the only fragrances I can tolerate need to be light and super-fresh. This fragrance smells like a fancy shampoo and gives you that just-showered feeling when you really need it — I've actually been using it all spring as a late afternoon pick-me-up. The blend of green apple, lemon, lily of the valley, and jasmine is somehow playful and crisp all at once. Plus, I love that every fragrance in the L'Eau de Missha line is only $39 each, meaning you can own a whole fragrance wardrobe for the price of one high-end perfume." — Tara Rasmus, assistant beauty editor
$39, available at Missha.
2.
Bliss Blood Orange And White Pepper Sugar Scrub
"Now that I'm finally able to ditch the suffocating layers of clothing and show some skin, it's slowly dawning on me that my scaly, dry, flaky body is in no condition to see the light of day. I'm normally not a big fan of shower scrubs, because they are usually all oily and leave behind a weird residue, but this one from Bliss is none of the above. It won't separate, spreads on smoothly, and rinses off clean. I apply it in the shower — using circular, upward motions — to help get my circulation flowing and jolt my sleep-addled brain from its a.m. fogginess. The citrusy, slightly spicy smell also helps awaken my senses, so I feel invigorated and my skin looks soft and glowing when I emerge from the shower." — Megan McIntyre, senior beauty editor
$36, available at Bliss.
3.
Elemis Pro-Collagen Cleansing Balm
"Cleansing my face is usually a one-way ticket to Boring Town, but this cleansing balm actually makes me look forward to washing up. It has a slew of natural ingredients: sweet almond oil, shea butter, starflower seed oil, orange peel wax, rose flower wax, and on and on. (No surprise, then, that it has an amazingly fresh, slightly herbal scent.) The texture is akin to a very soft wax, but it melts into a cleansing oil as soon as you massage it into your skin. It lifts off makeup, leaves my skin soft, and feels utterly luxurious. And, because just the smallest bit will cleanse the whole face, I expect this tub to last for at least six months." — Annie Tomlin, beauty director
$60, available at Time To Spa.
4.
Hourglass Opaque Rouge Liquid Lipstick in Muse
"I always admire girls who can pull off vibrant lipstick, so this summer I'm taking the colorful-pout plunge. I'm obsessed with this bright, matte coral — it's just the right amount of eye-catching, and it's perfect for warm sunny weather. It goes on like a gloss, lasts like a stain, and is super velvety." — Gabrielle Korn, beauty production assistant
$28, available at Sephora.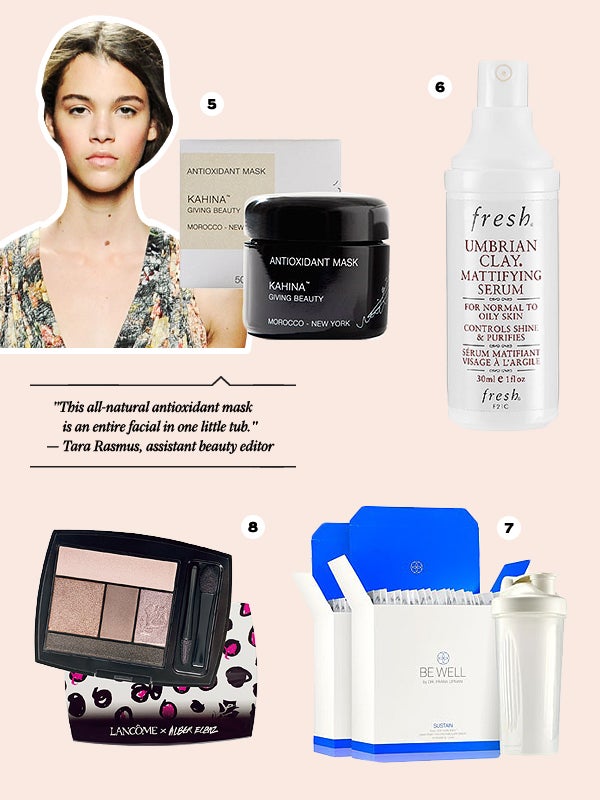 5.
Kahina Giving Beauty Antioxidant Mask
"The transition from cool, dry weather to heat and humidity means one thing for my skin: breakouts, and lots of them. To keep my face from having an utter tantrum when the weather warms up, I've been reaching for this all-natural antioxidant mask from Kahina. It detoxifies, stimulates collagen production, and exfoliates — it's literally an entire facial in one little tub." — TR
$62, available at Kahina Giving Beauty.
6.
Fresh Umbrian Clay Mattifying Serum
"I have naturally greasy skin, which obviously gets so much worse when it's hot out. This mattifying serum is made of magic: It truly keeps the oil off my face all day, while minimizing the look of my pores and gives my skin an overall fresh look. It's matte without drying, which feels like a miracle. Usually in the summer I sweat off all my makeup, so I'm really excited to have this secret weapon." — GK
$35, available at Sephora.
7.
Dr. Lipman Be Well Sustain Shake
"I've been trying to bust out of my cold-weather habit of hibernating with comfort food, which has proven difficult — my body has been subsisting on mac and cheese for so long that I get rage blackouts whenever I'm in a five-foot radius of a salad. In an effort to jumpstart my healthy eating habits, I've been drinking these gluten- and dairy-free shakes from Dr. Lipman every morning. Blended with some almond milk, a banana, and a scoop of almond butter, they make for a tasty, filling replacement to my usual morning muffin and latte. And, because I started my day with something that's good for me, I find I'm much less likely to rage against innocent produce when it pops up on my plate later in the day." — MM
$99, available at Be Well By Dr. Frank Lipman.
8.
Lancôme Show by Alber Elbaz Color Design Drama Palette in Taupe Craze
"Alber Elbaz is a designer who seems to understand what women want in a dress, and now he's lending his talents to the makeup world. Lancôme's collab with Elbaz isn't out until June, but I've had a peek at the collection, and it is so. Much. Fun. The packaging is kooky-cool, and this eyeshadow and liner palette is completely foolproof — if you follow the included steps, it's nearly impossible to not have majorly gorgeous eyes. Trust me, this one's worth the inevitable wait list." — AT
$51, available in June at Lancôme.