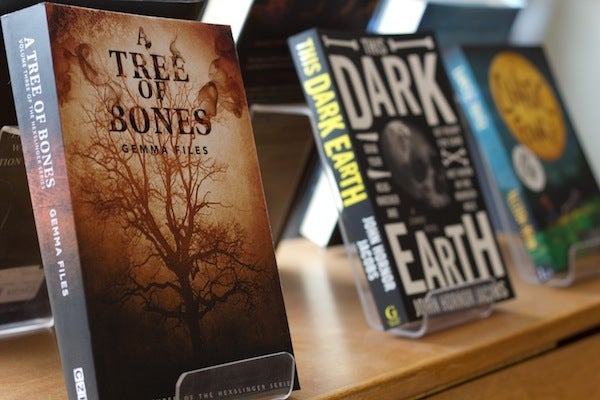 It's common knowledge that bibliophiles are always looking to expand their ever-growing personal libraries with the help of well-curated bookstores. Luckily, for the Bay Area bookworm, S.F. is a hotbed of literary nooks buzzing with good reads, great company, and a gung-ho flying-solo spirit of independence. And we're all about hailing indie bookstores as one of this city's national treasures. Just thinking about their transcendence from the once-dominant big-box chain stores, like Borders, is enough to get us giddy.
To this day, they're putting up a fighting chance to co-exist alongside e-readers like the Kindle and Nook, and e-book-store juggernaut Amazon. So, which local bookstores boast the best page-turners? Read on for our picks of standout indie tome havens found right outside your door!
Borderlands Books

This bookstore is a real floor-to-ceiling trove for sci-fi, fantasy, and horror titles, new and old. Everything from Chabon to Stross, Gaiman to Gorey, Ballard to PKD — you won't find them anywhere but here, along with rare DVDs and hosted author events. Pick up a book here to take to Borderlands Coffee next door, where you'll sip java, peruse a rack of vintage-pulp postcards, and browse art galleries. Also make sure to pet its ultra-adorbs shop cat-cum-mascot on your way out!

Borderlands Books, 866 Valencia Street (between 20th Street and Cunningham Place); 415-824-8203.
KAYO Books


Pulp fiction, anyone? This is your source for out-of-print vintage paperbacks, from hard-boiled crime of the '40s and '50s to psychedelic counterculture lit from the '60s and oddball sleaze from the '70s. Most of these are true collectibles in first-edition print. To sweeten the pot, these titles go for insanely cheap prices — try $1 to $5 a pop! Another rad thing: The shop's hilarious shelving system. Books and ephemera are arranged into mad categories like Catholic Guilt, French Zest, Sex On the Moon, and Literature Hobos.

KAYO Books, 814 Post Street (between Leavenworth and Hyde streets); 415-749-0554.
Dog Eared Books

Outside, you'll find the shop windows littered with loads of author and artist sketches. Inside, you'll find a laid-back joint with worn, lived-in interiors, along with high ceilings and open spaces with lots of natural light and room to browse all used titles. Zines, CDs, fiction and non-fiction books, coffee-table tomes, and other ephemera — you'll find 'em all here. Want to make some extra dough? Dog Eared allows you to sell your gently used books for trade and cash.

Dog Eared Books, 900 Valencia Street (between 20th and Liberty streets); 415-282-1901.
William Stout Architectural Books


If you like to combine your love for books with eye candy, you're in for a visual feast when you hit up this shop just a block away from the Transamerica Pyramid. While most of the books here are for serious pupils and enthusiasts of architecture, you can scoop up a huge selection of coffee-table books on design, fashion, photography, and home porn. Like a good book, you can definitely get lost in this store, perusing all the titles stacked wall to wall, sideways, and spiral ways!

William Stout Architectural Books, 804 Montgomery Street (between Gold and Jackson streets); 415-391-6757.
Omnivore Books on Food

Farm eggs for sale at the counter? You can't find this at Barnes and Noble! Foodies, cooks, and the gastronomy-curious will find lots to be inspired by in this specialty culinary bookstore in the Mission. Feast your eyes on a huge selection of cookbook titles — new, obscure, foreign language, and historical. You'll also find books on fare, culinary, and wine appreciation. Many of these copies are signed, too. The shop also hosts live demos and lectures from sommeliers, food critics, tastemakers, and chefs-turned-authors — where you can get your books signed while you sample every yummy bite.

Omnivore Books on Food, 3885 Cesar Chavez Street (between Church and Dolores streets); 415-282-4712.
Booksmith

If there's one bookstore in town that knows how to throw a rad party, it's Booksmith. While it does have a wide selection of titles and the warmest staff, we heart Booksmith for bringing in a steady stream of awesome writers for book signings and Q&As. Last year alone, it had Adam Savage interview rockstar writer Neil Gaiman live on stage. It's also served up meet-and-greet events with the likes of John Lithgow, Ozzy Osbourne, Wicked author Gregory Maguire, director John Sayles, Neal Stephenson, Ben Fong-Torres, Mary Roach, and other indelible names in literature and pop culture.

Booksmith,1644 Haight Street (between Belvedere and Clayton streets); 415-863-8688.
The Green Arcade

Hands down, this downtown haunt is much more than a bookshop! With an eclectic selection of books on social justice, urban planning, the environment, gardening, architecture, sustainability, and farming — this intellectual space promotes the value of being proactive in all the rad little gems that make this fair city progressive. Locavores will also delight in shopping gifts made in S.F. among other paper goods.

The Green Arcade, 1680 Market Street (between Gough and Valencia streets); 415-431-6800.
City Lights

City Lights first opened its doors in 1953, thanks to poet Lawrence Ferlinghetti and Peter D. Martin. It was made famous especially during the infamous obscenity trial of Ferlinghetti for publishing poet Allen Ginsberg's Howl and Other Poems. The spot broke legendary status when it became the literary hangout of all the beat poets and beatniks of the counterculture era. Today, when you step into this historical North Beach landmark, you'll find that a lot of its fierce and radical fighting spirit is still present and thriving. The shelves run endless and deep with titles from fiction to glossies and reference books, and even has an entire floor dedicated to poetry. Make sure to grab a quick photo-op in the basement with the infamous "I Am the Door," where many a beat poet once stood.

City Lights Books, 261 Columbus Avenue (at Broadway Street); 415-362-8193.