Right around the corner is an idyllic little stop, where the only chain to be found is Publix and it has valet, and vintage Valentino shopping and velvet loafers can be found in abundance. We're talking about the gorgeous isthmus where every day is a beach day and we are only an hour and a half away.
Palm Beach is a land of family-friendly station wagons parked next to Porsches with Ivy League bumper stickers, and has also played home to almost every celeb estate under its bright sun. Palm Beach — not West Palm Beach, easy mistake — is an easy day-trip or weekend getaway. Here's how to own Palm Beach three ways, taking in the traditional sites, cultural surroundings, or if you're just looking for an economic getaway.
Photos (clockwise from top): Courtesy of Stubbs and Wooten, The Flagler Museum, Mister And Me Crafts, and WorthAvenue.com
Eat
Dine beneath birds of paradise and get some good people watching in at Nick and Johnnie's, a Milly and J. Crew-laden dining dive. This spot is best during winter break or summer vacation, where you can get a load of teen locals in all their Lilly Pulitzer glory. Wash down some Ahi tuna tacos with a dark and stormy, the land-lubbers way.

Nick and Johnnie's, 207 Royal Poinciana Way (at North County Road); 561-655-3319.

Shop
If you're doing the full Palm Beach tourist thing, you probably want to try your luck getting on top of a board. Here's an idea: rent a paddleboard or find yourself a sporty new suit at the p.b. Boys Club. You can rent hourly or daily, and the most expensive option (surfboard, full-day) will only set you back $60. Or you can always just check out the hot Aussies and Brits behind the counter.

p.b. Boys Club, 307 South County Road (at Brazilian Ave); 561-832-9335.

Visit
Get your loafers or super-high heels on and take a stroll on Worth Avenue, or "Mink Mile", where you can check out Pucci, Gucci, Louis, and more. Consider it Palm Beach's Bal Harbour, Merrick, Park and Aventura all in one. Detour onto the Vias and make a stop at the Stubbs and Wootton flagship for a look at those majestic monogrammed loafers in their own hometown.

Stubbs and Wootten, 1 Via Parigi (at Worth Avenue); 561-655-6857.
Photos: Courtesy of Nick and Johnnie's, Stubbs and Wootten, and p.b. Boys Club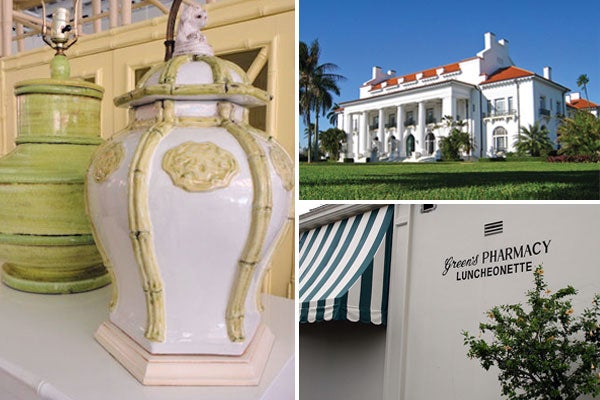 Eat
If you remember the classic version of Allen's Drug Store on Red Road, Green's Pharmacy is the Palm Beach equivalent. Get a glimpse at an era long-forgotten, with black-and-white tiled floors and soda fountains. Don't forget to stuff your face with pigs in a blanket; It's a cultural immersion and arterial clogging, all in one.

Green's Pharmacy, 151 North County Road (at Sunrise Avenue); 561-832-4443.

Shop
Palm Beach is pretty much a shopping trip, a haven for classic America meets laidback surf. Antique shops are full of English, French, and Asian finds from the more storied residents that call Palm Beach home. Give yourself a history lesson by checking out Circa Who and its Old Florida feel.

Circa Who, 531 Northwood Road; 561-655-5224.

Visit
Only in Palm Beach is a mansion called a museum — but hey, no complaints. Visit the Flagler for a glimpse at the gilded age, Florida-style. We're talking dripping with gold a la Great Gatsby, and allow yourself the fantasy of crossing the portico and imagining that you call that marbled mansion (and its domed ceilings) home.

Flagler Museum, 1 Whitehall Way (near Coconut Walk); 561-655-2833.

Photo: Courtesy of Circa Who, The Flagler Museum, and Green's Pharmacy.
Eat
Eat yourself into a sugar coma of homemade waffle cones and triple-chocolate-chip ice cream at Sprinkles Ice Cream and Sandwich Shop. If eating a double scoop for lunch just doesn't do it for you (shame!), this Florida classic has an assortment of salads, pastries, and sandwiches for your pre-shopping carb-loading.
Sprinkles Ice Cream & Sandwich Shop, 279 Royal Poinciana Way (at Cocoanut Row); 561-659-1140.
Shop
Get your thrifting fingers ready, because Palm Beach is home to some of the best second-hand finds in the entire USA. Head over to Sunset Avenue and Royal Poinciana Way for a veritable slew of vintage, consignment, thrift, and second-hand stores. Try Goodwill, Razamataz, or Attitudes on Sunset or Déjà Vu, Tanya Pierce, or Cassie & James on Royal Poinciana.
Attitudes of Palm Beach, 212 Sunset Avenue (at North County Road); 561-832-1666.
Visit
Did you think that we would have sent you all this way and not let you know about the beach? Get your tan on before heading back South at the breathtaking Kreusler, where the parking is good, the sands are white, and the water is crystal.
R.G. Kreusler Park, 2695 Sout Ocean Boulevard; 561-966-6600.
Photos: Courtesy of Attitudes, Sprinkles Ice Cream and Sandwich Shop, and VisitPalmBeach.com