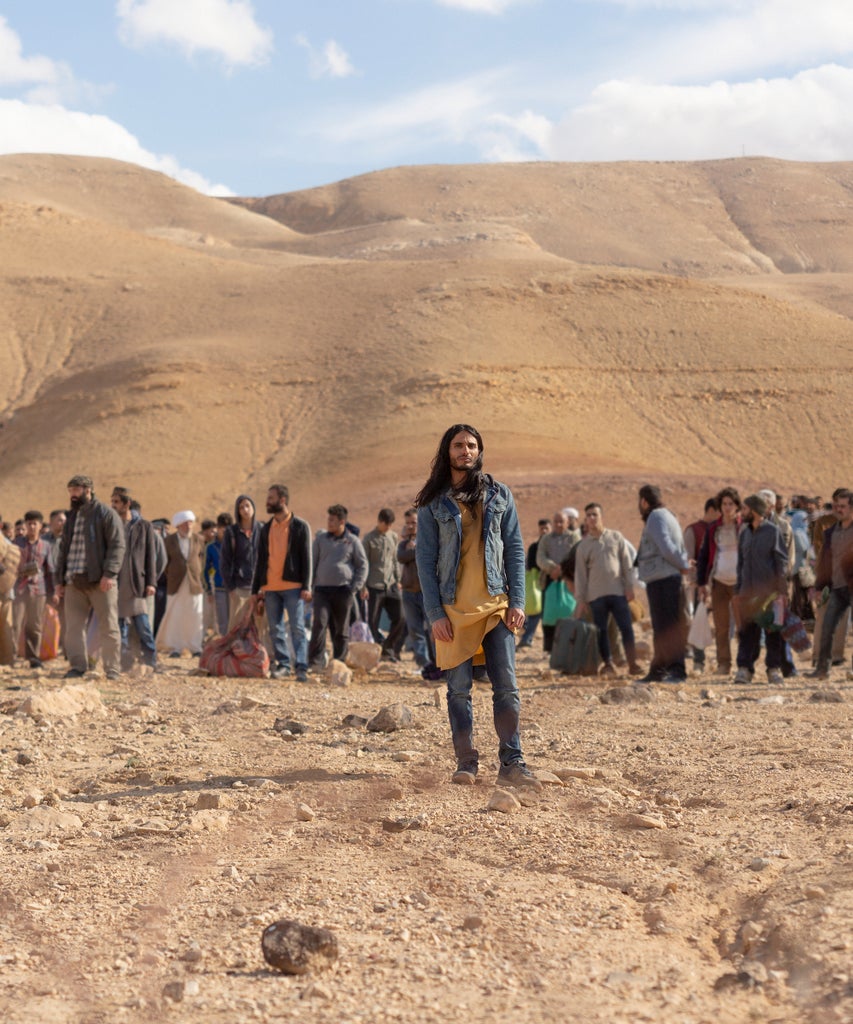 Films and series that center on religion are not a new phenomenon, per se. Take Mel Gibson's 2004 epic
The Passion of the Christ
or
2014's star-studded Noah
, directed by Darren Aronofsky. Both were blasted by critics and viewers alike for their portrayal of Jews and the prophet, respectively. Netflix's latest offering,
a 10-part drama series called Messiah
, is already drumming up the same level of controversy — even before its January 1 release date.
That's because
Messiah
goes straight to the heart of what many consider sacred religious territory. The story
follows the rise of a Christ-like figure
named al-Masih, or Arabic for "the Messiah," and his plan to ultimately march 2,000 Palestinian Syrians across the border of Israel. A skeptical CIA agent is assigned to investigate the movement, and much of the series chronicles her attempts to figure out whether al-Masih is actually a divine entity or just a dangerous con artist looking to upend the world's geopolitical order.
Belgian actor Mehdi Dehbi plays the titular character, and Mission: Impossible - Fallout's Michelle Monaghan plays CIA agent Eve Gellar.
"Who do you think he is?"
Netflix tweeted
alongside a trailer for the series in early December. Muslim viewers were quick to decry the platform's flippant approach to the series' religious focus and scoffed that the answer to the question was already made obvious in the series' marketing materials. "al-Masih," it turns out, doesn't just mean Jesus Christ in Islam. It is also the name with which Dajjal, or the Antichrist, announces himself in the Islamic religion — meaning that Dehbi's character is already outed as a con artist from the get-go.
To call a series all about Dajjal, or the Antichrist, Messiah, then, has more than offended many viewers.

"This topic is rather sensitive and making a production like this will only have viewers forgetting the fact that this matter is not a joke,"
reads a Change.org petition
calling for a boycott of the series. The petition also blasts the series as "evil" and "anti-Islamic propaganda." So far, over 4,000 people have signed the online petition.
Amid the controversy, series creator Michael Petroni
told the AFP
that Netflix was understandably "nervous" about getting behind the project, but that he believes the conversations it can spark will be well worth the risk.
"Yes, it's provocative. The show is provocative," he said. "But provocative isn't offensive. It's not like I'm welcoming backlash. We expect that there's going to be a lot of noise around the show, and a lot of debate. I'm hoping for debate."

American author G. Willow Wilson offered her two cents,
telling the BBC
that even if the series were primarily meant to be a conversation starter, it was still very "heavy-handed" to name the main character al-Masih.
"I get why, to an English speaker with no background in Islam or Arabic, the connection between Masih and Messiah is sufficiently subtle," she said. "So perhaps to them it sounded like Bob. Yet they didn't anticipate that everything is local on the internet."