When it comes to exploring this awesome city of ours, well, we all have our comfort zones. After all, it's just too easy to walk out the door and find amazing shops, restos, and entertainment in our own neighborhoods. But, if you've only made it as far as, say, Wicker Park, we've got news for you: There's a lot of other really rad places to visit that are only a few El stops away. Our pick du jour? Hyde Park, home to the Obamas—and so much more.
Sure, we covered the obvious spots like the president's favorite place to nosh and pick up a good read. We even tracked down the college apartment where he probably spent time contemplating his future. But, this South Side neighborhood also has other treasures, ranging from off-beat shopping at Encore Thrift Store and Hyde Park Records to the inspiring work of Frank Lloyd Wright at Robie House. There's even a park with killer lakefront views that may not be on your radar (you're welcome!). Of course, we've got spots for dining, as well—we are a food town, after all. So, what are you waiting for? Charge up that CTA pass and get going!
Another Obama family favorite, 57th Street Books has been around for over 20 years and features a wide variety of titles and genres. It's known for having awesome mystery and science-fiction sections, cookbooks, and regular ongoing events. Have kiddies? Every Wednesday at 10:30 a.m., the staff hosts a story hour.
Photo: Courtesy of Lauren Schiappa
We heart a good thrift store — especially one minus a musty smell like this place. The shop is well organized, and the goods are in good condition. The selection is huge, but the space is not, which makes it a bit easier to keep your eye on the prize. Gap dress for $5? Yes, please!
Photo: Courtesy of Cara Hunt
The college kids aren't the only customers sifting through the bins of vinyl at this jam-packed shop. Decent prices, a wide selection, and a friendly staff keep loyal patrons coming back for more. Let's not forget to mention the CDs sold at an astonishing two for $5, or the $5 DVDs. That is, providing you still have one of those "ancient" contraptions to play them on.
Photo: Courtesy of Cara Hunt
Kilimanjaro International
This awesome shop boasts a variety of hand-crafted African culture jewelry, clothing, and art —
including some gorgeous ebony carvings, furniture, and vintage goods, too. The topper of an experience here? The super-sweet and knowledgeable owner, Sister Rose Garrett, who is on hand to answer just about any question you might have about any piece in the store.
Photo: Courtesy of Lauren Schiappa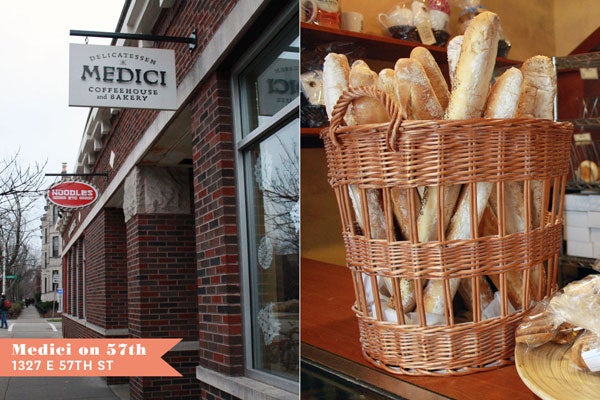 Cozy? Romantic? You better find a date because Medici has all the criteria for a dinner for deux — including a BYOB policy, which makes this respite budget friendly. Despite its atmosphere, Medici is a no frills place. While it sounds 100% Italiano, the menu boasts everything from bar-type apps and over 15 hearty sandwiches to an eclectic entrée selection and some pizza — our pick, just in case you need an opinion.
Photo: Courtesy of Lauren Schiappa
Obama's College Apartment
We would have suggested a spin by Obama's actual home, but you can't get close to it these days, so the next best thing would be to take a peek at his college pad. While you're not going to be able to go inside to see his Unit 1 North living quarters, at least you can get a nice look of the joint from the outside. Hmm…we wonder what was hanging up on his walls back in the day?
5429 South Harper Avenue (between 54th place and 54th street); no phone.
Photo: Courtesy of Cara Hunt
What was once a landfill (say what?) in the 1920s is now a favored spot among bikers, joggers, and walkers along Chicago's lakefront. Located at the eastern boundary of Hyde Park, the historic landscape is a focal point of Burnham Park — and an awesome place to have a picnic come summertime.
Photo: Courtesy of Lauren Schiappa
We can't get enough of Frank Lloyd Wright's killer eye for design — so much that we're not too proud to scoop up a knockoff lamp if we see one. But the Robie House (on the University of Chicago campus) is the real deal. Wright created this abode for Frederick C. Robie — a savvy businessman — back in 1910. His signature Prairie-style design put his name on the map and can be seen in detail via one of the engaging tours taking place on a weekly basis.
Photo: Courtesy of Lauren Schiappa
New to the Hyde Park, this cozy coffee shop has a neighborhoody feel more than any local chain shop ever could. Friendly baristas, damn good breakfast sammies (among other tasty café eats), and complimentary Wi-Fi should score points with any avid coffee shop-goer.
Photo: Courtesy of Cara Hunt
Known for its victory breakfasts (read: free eats) after both of Obama's elections, this little diner has been one of the prez's favorite spots since his days at the University of Chicago. If you're curious as to what he chows down on, try one of the combos off the Obama menu, such as two pancakes and eggs with sausage or bacon. Talk about the breakfast of champions.
Photo: Courtesy of Cara Hunt