UPDATE: Feel like a little shopping spree? Buy local with one of these amazing designers. This story was originally published on September 5.
We admit it: Our hearts beat a little faster at the sight — or touch — of a good designer label. But, hey, Coco Chanel was once unknown, so it is forever anyone's game. And, yes we're not Paris, but we're convinced that bright futures lie ahead for the amazing talent here, too.
Get to know Chicago's coolest homegrown fashion designers now and fall in love with their diverse techniques, styles, and personalities. From classic and ultra-feminine to edgy and avant-garde, our list means you don't have to look farther than your own backyard for some serious Next Big Things. Chicago, c'est chic.
Elise Bergman
Season after season, we fall in love with Bergman's ethereal designs and creative use of vintage fabrics, supple silks, organic cottons, and hand-dyed or woven eco-conscious materials. Her feminine dresses, tops, and skirts look good on everyone (for real), making them perfect go-to pieces no matter where you're headed. Getting hitched? The guru of garments also creates custom bridal apparel for that once-in-a-lifetime walk down the aisle you've dreamed about long before you even knew what tulle was.
Despite having come a long way since launching her first rack of wares back in 2006, she still has a hand in every single one of her gorge pieces. One of our favorite Bergman moments was this past February at New York Fashion Week. We cheered her on when she was chosen by Diet Pepsi as one of four up-and-coming designers to showcase a collection at the Diet Pepsi Style Studio at Lincoln Center, proving that Chicago style can make it in the Big Apple.
And if you happen to be out at the hot, new RM Champagne Salon, check out the cocktail waitresses. Their sophisticated uniforms were designed by the local style maven, too.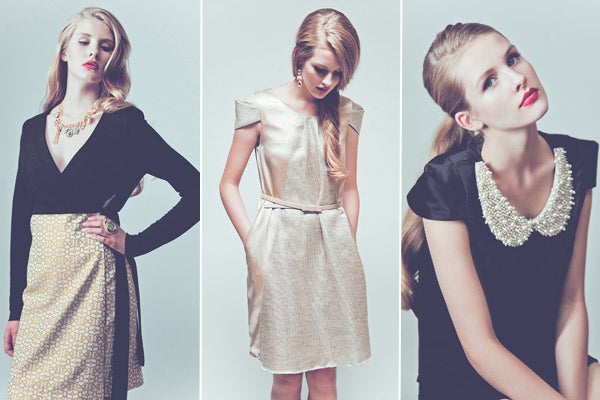 We LOVE it when we hear a story about someone ditching their 9-5 for their true passion, and Nora Del Busto (a previous lawyer) is no exception. The budding visionary was selected to be a "designer in residence" at the amazing Chicago Fashion Incubator at Macy's on State Street. This wonderful program gives talent like Del Busto studio space, marketing support, and merchandising support — even a sewing machine — with the intention of helping newbies start their own line. It's safe to say Del Busto made the best use of all those resources when she launched her first collection in 2009.
Her ready-to-wear cocktail dresses and separates take a cue from the precise lines seen in the architecture world — her source of inspiration. She loves to balance feminine and masculine qualities and use luxurious fabrics to make the wearer feel beautiful and comfortable at the same time. Flash: Del Busto is up for the Fashion Group International of Chicago's Rising Star award in the apparel category next Wednesday, September 12. We wish her luck!
Creatures of the Wind is definitely not a slowly rising star. In fact, even before receiving a runner-up prize from the CFDA/Vogue Fashion Fund last November, owners Shane Gabier and Chris Peters (partners in life as well as design) have grown their locally grown label into a heralded fashion favorite known worldwide. Just this past March, the brand started selling its captivating prints and delicate, feminine separates on mega-retailer Net-A-Porter.
You may have also picked up a piece or two from the capsule collection for J.Crew, the third and final installment of this year's CFDA/
Vogue
Fashion Fund capsule series, which featured four limited-edition pieces inspired by '60s psychedelia. Creatures recently announced their continued partnership with the Swarovski Collective program on their
Facebook page
with a quick status of "exciting things to come..." Bring it on! We can't wait for the next Creature feature.
Photo: Courtesy of Creatures of the Wind
Though Shernett Swaby's top five finalist status on Project Runway certainly didn't harm her career, we're convinced she would have still established her roots as a solid designer without it, too. Considering she started making doll clothes and mending her own wares at the tender age of eight, it's safe to say designing was always in her blood.
The SWABY brand is considered to be edgy-chic with the look of wearable art. Feminine — but in a fashion-forward way. While we are happy to give some local Swaby love, the designer's work has been featured in international mags and television shows, too, thanks to her globe-trekking schedule meeting with clients and staging fashion exhibits all over the world.