UPDATE: This story was originally published on September 19.
Question: How many times do you dine out a week? Getting great eats in Chicago is as easy as perusing the menu at any one of a hundred standout spots—and then making a decision. But, what happens behind the scenes is another story. To see what goes into your meal well before you place that order, we traipsed into the amazing kitchens of three of Chicago's hottest restaurants: Alinea, Balena, and Trencherman.
From exotic ingredients and meticulous prep work to chefs' pet peeves you should be aware of, these details might just change the way you feel about your next culinary adventure. And, just in case you'd like to try cooking like a pro yourself, each of the chefs supplied a (surprisingly easy) recipe for you to whip up on your own. Don't worry—we promise we won't show up at your door.
Alinea may not be the newest kid on the block, but it certainly is still one of the hottest tables in town — and probably always will be. Under the guidance of world renowned chef Grant Achatz, a kitchen staff averaging 24 team members works fastidiously to ensure every component to each dish is perfect on all levels. But even with well over 175 ingredients on the current Alinea menu, we're told the most commonly used is none other than salt. As you can imagine, there's a lot that goes on behind the scenes at a restaurant that specializes in molecular gastronomy. Take for instance this complicated looking piece of equipment called a rotary evaporator, a device typically used in chemical laboratories to remove solvents from samples by way of evaporation.
Tell me a little bit about your relationship with Phillip Preston who creates your equipment for you.


"We have been collaborating with Phillip since six months before we opened Alinea. He's an amazing person... analytical, a capable engineer, and a great imagination. We found his laboratory temperature equipment and thought it would be perfectly suited for sous vide cooking. We then mentioned some other ideas, and within a week or two he'd have a prototype to show us. Now he's constructed an entire line of kitchen technology."
What is the most complicated dish you make and why?

"Complexity can take the form of technique or sheer number of steps. Very simple looking dishes can be quite complex. Lamb 86. Lamb prepared 4 ways, plus every garnish that tastes great with lamb." Editors note: check out this amazing YouTube video of this incredible dish being prepared!
What is the inspiration behind your menu?
"Everything — a song, a tree on the forest floor, breaking glass..."
Any diner pet peeves?


"Fake allergies. If you don't like something, just say so. Don't say you're allergic to it."
Hot Potato Cold Potato — Serves 8

A signature Alinea dish broken down in a way that you can enjoy at home too—no fancy equipment required!
For the Potato Soup

3 Yukon Gold potatoes, peeled, medium dice

2 cups black truffle juice

4 cups heavy cream

3 tbsp. of salt
Potato
2 Yukon Gold potatoes

1/2 lb. butter

3 tbsp. water

1 tbsp. salt
Cheese

4 oz. Parmesan cheese broken into small pieces
Butter
2 oz. butter cut into 1/8" cubes
Chive

4 chives cut into 1" lengths
Truffle

1 black truffle sliced into 8 slices
To Make The Potato Soup
Combine all ingredients in a medium pot. Bring to simmer, and simmer over medium heat until potatoes are tender. Puree ingredients in a blender until smooth and strain through a fine chinois. Season to taste, and chill until very cold.
To Make The Garnishes

Scoop the potatoes with a melon baller. Cook the potatoes in the remaining ingredients until tender.
Editor's note:
At Alinea, this soup is served in hand-made paraffin wax bowls (roughly 100 are constructed each night) using custom molds designed by Martin Kastner of Crucial Detail. For an easier approach without losing the creativity of this dish, purchase some inexpensive
silicone condiment or baking cups
.
Presentation

Pour 2 oz. chilled soup into the bowl. Skewer the parmesan, chive, and butter onto a metal toothpick. While the potato ball is still hot, skewer it on the toothpick, as well. Serve immediately.
No sibling rivalry here. Michael and Patrick Sheerin are the dynamic brother/brother duo (owners and executive chefs) behind one of Chicago's newest and buzziest restaurants. While their venture is no doubt a team effort, Michael gave us the behind-the-scenes scoop.
What's a typical day like for you guys?

"Our morning begins with a coffee together, looking at what we need and want to accomplish while sitting at table 10 in the dining room. The day is done when we are drinking a glass of Eric Bordelet Granit (beautiful pear cider from 300-year-old trees). It tastes like fall and air from an open field."
What are the most widely ingredients used and how much do you go through on a weekly basis?

"Pekin ducks (400 pounds), and right now tomatoes — 250 pounds a week. These would be followed by black sesame and black olives, roughly 10 pounds of each."
What's your buying process like for ingredients? Do you ever go yourselves?

"Every Wednesday, Saturday, and Sundays when needed, we go to the Green City Market and the Wicker Park farmers' market to buy vegetables in person. We see what's available, talk to the farmers on what's coming into season, and how long it will be around. Every Tuesday and Thursday, those farmers deliver more vegetables. We receive our Pekin duck delivery on Thursday night and our herb and lettuces come in Friday morning both from different farms. So, both seasonally and almost daily we are purchasing fresh ingredients."
Any diner pet peeves?

"Just diners that aren't honest with their experience. Trenchermen wants every customer to be happy walking in and even happier leaving. It's just hard to read every customer. We want to hear what's good and definitely what's bad. If they had enough food or if they had enough to drink. We can't care or fix the problem If we don't know the problem."
Kale Salad — Serves 6

A perfect fall salad, from the Trencherman kitchen, to yours.
Marinated Kale
1 bunch of Tuscan kale

4 oz. olive oil

2 oz. white wine vinegar

salt to taste
Wash kale and pull out large center vein. Cut into bite size pieces. Whisk oil and vinegar together (salt to taste) and pour over kale. Chill for at least one hour before serving.
115 grams edamame

115 grams tofu water

90 grams water

5 grams chives

18 grams grapeseed oil

salt to taste
Peel the outer shell off the edamame beans. Place the edamame, chives, and tofu water in the blender. Blend until smooth, adding additional water while blending to thin it out. Add oil slowly while blender is on. Add salt to taste.
Kale Chips

8 oz. kale

32 oz. mild flavored oil
Wash kale and cut out large center vein. Cut into large pieces. Dry kale completely. In a deep pot, bring oil to 300 degrees fahrenheit. Fry kale in small bathes, seasoning with salt as they come out of the oil.
Escebeche Vegetables

2 cups white vinegar

1 cup sugar

1 cup water

1 tsp. coriander

1 tsp. fennel

1/2 tsp. mustard seed

1/2 dried chile

5 baby carrots

8 bay turnips

4 stalks celery

4 cippolini onions
Toast all of the dry spices in a pan until aromatic — about a minute. Place them all in a cheese cloth sachet. Place the sachet into the same pot as the water, vinegar, and sugar and bring to a boil. Let pickling liquid steep for at least one hour. Keep it warm — not hot. Blanch and shock all vegetables in salted boiling water until just tender. Do not cool them all the way. Just stop them from continuing to cook. While the vegetables are still warm, pour the warm pickling liquid over them and let sit for at least two days. Cut vegetables into bite size pieces and reserve in liquid for salad.
Edamame Puree

100 grams frozen edamame

100 grams water

salt to taste
Defrost edamame and double shuck, removing the outer pod from the membrane around the pea. Place in a blender and add 100 grams of the water. Puree until smooth, slowly adding more water to ensure a smooth puree. Season with salt to taste.
Carrot Quinoa Bread

400 grams all purpose flour — fava blend from Bob's Red Mill for a gluten free option

100 grams light brown sugar

1.25 grams baking soda

215 grams cooked quinoa (rinse before cooking)

3 eggs

150 grams mild oil

225 grams Finely Shredded Carrots

6 grams Salt
Emulsify eggs, brown sugar, salt, and oils. Combine the dry ingredients and fold together with the emulsion. Then add the quinoa and lastly, the carrots. Place in a slightly greased cake pan 3/4 to the top. Bake at 350 degrees until a toothpick comes out clean from the center.
Composition and Presentation
In a large bowl, toss marinated kale, escebeche vegetables together with the dressing to taste. Tear carrot bread into pieces and place in the oven to warm slightly. Place two-to-three warm pieces of bread onto plates. Divide marinated kale and vegetable mixture onto plates, making sure to evenly distribute the pickled vegetables. Garnish the plates with the fried kale and edamame puree.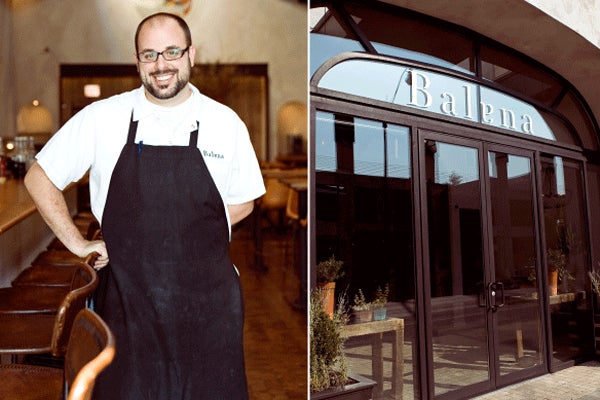 Balena
1633 North Halsted Street (between North Avenue and Concord Place), 312-867-3888.
Ask someone where they had dinner recently and they will most likely tell you Balena. It's already been named one of the top 50 new restaurants by Bon Appetite, which is no small accomplishment. Chef Chris Pandel tells us why.
What goes into the prep work before an evening of dinner service? How much (and of what) is made in advance?

"We make all items in-house at Balena, so there is a fairly intensive prep schedule in the morning — from pasta making to butchering whole animals. We cook all items to order during service, so the prep is literallly just raw product ready to be cooked for the diners."
What is the most exotic ingredient you use and where is it sourced?
"Right now the most exotic ingredient we have at the restaurant is black garlic which is a fermented product from southeast asia."
What is the most widely ingredient used and how much do you go through on a weekly basis?

"I have to say that flour in various forms is the most used ingredient at Balena. Most of our menu revolves around flour and water! Off hand I believe we go through around 600 to 650 pounds per week."
Any diner pet peeves?

"There are always things that will annoy a chef, but in the end we are here for the guests. It's my duty to ensure they have a great experience no matter what."
Farm Egg Tajarin— Serves 5

Yes you can make homemade pasta at home — and the sauce is absolutely effortless.
1 kilo flour

35 to 40 egg yolks

1 Tbl. kosher salt

12 sage leaves

4 Tbl. butter

1 lemon for juicing

Dante cheese for shaving
Noodles

Add the kosher salt to the flour and create a well on a sturdy table. Place 35 yolks in the center and begin to incorporate the flour slowly. Once the flour is incorporated into the yolks knead the dough for ten minutes until it has a velvety consistency. If its extra dry, use more yolks to make the dough come together. If it happens to be damp, use less yolks and more flour. Once the dough is formed, wrap it in plastic wrap and let is rest in the refrigerator for an hour.
When you are ready to roll the noodles, lightly dust the table with flour and begin to roll the ball into sheets.
Roll the dough out to a width that will fit through the largest setting on your pasta roller. We roll ours to about 1.5mm thickness and then hand cut the noodles to the same width. That is close to the number 2 setting on a pasta roller. Be sure to roll it through twice on the last setting. Dust the noodles with a little semolina and hang to dry for a half hour.
Composition

Boil well salted water and cook the noodles for no longer than 45 seconds at a boil. In a large sauté pan, brown the butter with the sage leaves to marry the flavors. Remove the pasta from the water allowing a few ounces of pasta water to land in the pan with the pasta.
Finishing Touches

Season with kosher salt and lemon juice. Garnish with shaved Dante cheese.