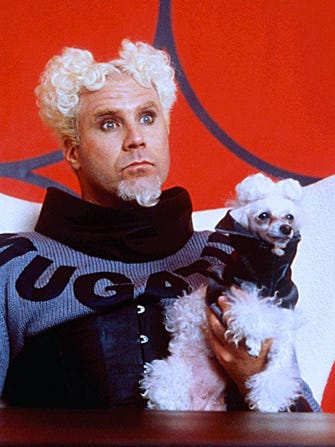 Photo: Courtesy of Paramount Pictures.
It's been a roller coaster of emotion for Blue Steel fans over the last decade or so, with a suggestion every few years that a sequel to the 2001 comedy was in the works. If you believe Will Ferrell, though, we're closer than ever to a fresh installment of Derelicte Chic. The actor recently told
SlashFilm
, "We are actually supposed to do a read-through of a sequel script soon, and Mugatu is a part of it."
Justin Theroux, who played a dreadlocked DJ in the original film, also
also teased a sequel
last month, saying that he'd been working on the idea with Ben Stiller, but that things were still in early stages.
But, let's back up for a second: Do we really want a sequel? Zoolander is not exactly the apex of comedy, like Mariah Carey's Glitter, or Beaches.
And, should we really place faith in Will Ferrell? (No.) After all, we've been hearing about this sequel for a while, and the average age of the leads is now roughly 47. Remember when
Lady Gaga was supposed to be in it
? That was, like, 40,000 costume changes ago.