You probably know Emily Schuman of Cupcakes and Cashmere for her fabulous outfits, but a less-known fact about the fashion blogger is that she's secretly a DIY queen.
Case in point: While looking for ways to dress up her air-dried locks, Schuman turned to her latest craft-project leftovers and fashioned three ways to dress up the humble bobby pin. Our favorite? The pretty-punk studded bobby, worn casually on one side. We don't normally consider ourselves handy with a glue gun, but Schuman has officially inspired us to get crafty — and enjoy the time saved on styling our manes.
Head on over to see Schuman's full tutorial — plus two additional ways to dress up your basic drugstore hair pins.
(Cupcakes and Cashmere)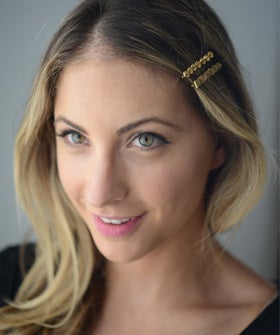 Photo: Via Cupcakes and Cashmere.

Like this post? There's more. Get tons of beauty tips, tutorials, and news on the Refinery29 Beauty Facebook page. Like us on Facebook — we'll see you there!