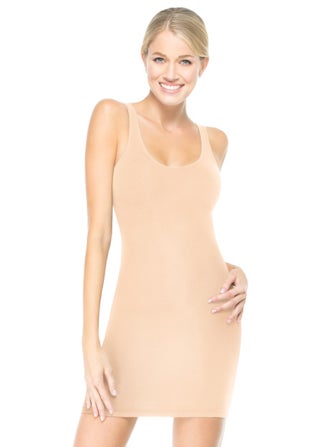 Photo: Courtesy of Spanx.
Sugary drinks, copious barbecues, gluttonous vacations — oh, how we love summer. But what we aren't so keen on are those extra pounds that come with our fun in the sun. While getting back on the program is the only surefire way to permanently shed that extra baggage, sometimes, time is of the essence — as in, I need to fit into that dress tonight essence. To the rescue: Spanx, our tried-and-true friend that always makes us look and feel our best no matter how, um, snug our dress is. And, if you thought Spanx couldn't get any better, think again.
On Friday, August 23, Sun-Times Splash between 5:30 and 7:30 p.m., editor Susanna Negovan will be at Macy's on State Street to launch the new Star Power collection. That's right. Now, there are even more ways to melt that muffin top and banish that butt thigh — even if only temporarily. While you're there, you can score a NARS makeup application from the Star Power style team and enter to win a $500 Spanx wardrobe. That's a whole lotta inches lost ladies, so make this event your first stop on your Friday night itinerary. Considering you'll probably be out eating and drinking, we say, it's definitely a smart idea.