UPDATE: This story was originally published on December 6.
We'll admit it: As fun as the holiday season is (Presents! Lights! Pie!), spending that much one-on-one time with your extended family can be seriously stressful, too. After all, how many times can we grin and bear it when Mom reminds us that we're still single? Instead of pulling your hair out, we suggest going with the flow (and maybe keeping a bottle of wine on hand). After all, for better or for worse, our relatives are an integral part of the season, so we may as well have some fun with them, right?
Well, to make that a little easier, we rounded up some of our favorite ways to entertain all your cousins-once-removed in the Windy City—no tourist traps included. Whether it's going high-end with tea at a fancy hotel, trying out the newest resto, or getting your laugh on at an irreverent play (maybe leave Grandma home for that one), our list has something for everyone. Even your angsty teenage cousin will have a blast, we swear.
Chicago French Market
Even though this indoor marketplace filled with local artisans and vendors is open year-round, it gets even more amazing during the colder months. Our favorite stop? Bello Tea, for sips of flavors like Peppermint Bark, Snowflakes, and Winter Wonderland. These brews make perfect presents, or you can just enjoy them with your loved ones.
Chicago French Market, 131 North Clinton Street (between Randolph and Washington streets); 312-575-0306.
Dinner at Brasserie54 by LM
No holiday weekend (or any weekend, ever) is complete without a good meal at a hot resto. Plus, it's the perfect cure-all for any familial squabbles — after all, you can't argue when you're eating, right? We especially love the vibe at Brasserie54: The space is casual-cool, the food is upscale enough for Mom, and the beer list is hearty enough for Dad. Bases, consider yourselves covered.

Brasserie54 by LM, 5420 North Clark Street (at Rascher Avenue); 773-334-9463.

Chocolate At The Pen
The Peninsula Hotel is a classic Chicago establishment, and the elegance of the place is undeniable. For a truly decadent experience, visit the lobby lounge and partake in the chocolate buffet. For $50, you can indulge your sweet tooth with truffles and a chocolate martini, accompanied by live jazz music (hey, it is the Peninsula, after all!).

The Peninsula, 108 East Superior Street (at North Michigan Avenue); 312-573-6685.

Haute Chocolate at Allium
The Four Seasons hotspot is rolling out a brand new menu of hot chocolates, making for a family activity for all ages (you can bring the little ones to this!). Toast the season alongside a roaring fire with flavors like Mexican hot chocolate and hot buttered rum. And, since you are on vacation, there are liqueur pairings for every variety.

Allium, 120 East Delaware Place (between Michigan Avenue and Rush Street); 312-799-4900.

Second City Nut-Cracking Holiday Revue
For a lighthearted, hilarious take on the holiday season, look no further. Consider the comedy troupe's satire your respite from all things sugar plum fairies and cartoon elves. Shows run every weekend, so grab your tickets now.

Second City, 1616 North Wells Street (at North Avenue); 312-337-3992.


Photos: Cindy Kurman, Courtesy of Brasserie54, Courtesy of The Peninsula, Courtesy of Allium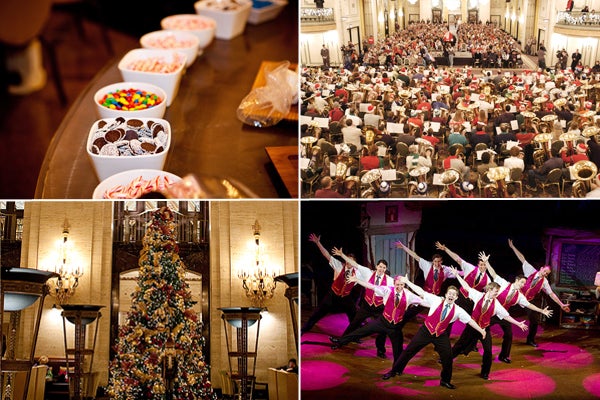 Cupcake Decorating at Palmer House
Entertaining the tykes during the Christmas season can be tricky, especially if you prefer to steer clear of long lines of screaming children (here's looking at you, Macy's Santa!). Instead, try a calming (well, until the sugar high hits) afternoon of cupcake decorating — there's plenty of samples for the adults, and you might even learn some new baking tips. Lessons take place every Saturday in December, from 2 to 4 p.m.
Palmer House Hilton, 17 East Monroe Street (between State Street and Wabash avenues); 312-726-7500.
Book of Mormon
And now, for the adults-only portion. Book of Mormon is a hilarious, raucous good time, so if you can score tix you're guaranteed to have a blast. If your parents are a bit uptight, this is the perfect time to ditch 'em and bond with your wacky uncle.

Bank of America Theater, 18 West Monroe Street (between State and Dearborn streets); no phone.
HoliDose at Dose Market
Don't think we forgot about the shopping! Dose Market's special holiday edition is chock full of vintage goods, local vendors, and, of course, delicious bites — so make a day of it, why don't you. It all goes down this Sunday, from 10 a.m. to 5 p.m.
Dose Market, 435 East Illinois Street (between McClurg Court and Lake Shore Drive); no phone.
A Tuba Christmas
File this under "something you never thought you'd do": 400 tubas will gather for what we imagine will be one of the loudest, jolliest Christmas concerts around. Bring the kiddos on Saturday, December 22nd at noon.
Palmer House Hilton, 17 East Monroe Street (between State Street and Wabash avenues); 312-726-7500.
Holiday Window Gazing
You may think Michigan Avenue is tourist trap central, but you just can't beat the breathtaking beauty of the twinkling lights and elaborate window displays — we suggest going on a weekday to avoid the crowds. For views a little off the beaten path, turn onto the side streets to check out the local shops (we love Sofia on Walton!)
Photos: Courtesy of Palmer House, Book of Mormon