Photographed by Eva K. Salvi
The age of enlightenment may have ended two centuries ago, but Kathryn Parsons is ushering in a new era, one perfectly suited to our fast-changing, increasingly connected world: the age of digital enlightenment. As cofounder of the London-based tech startup
Decoded
, she's teaching executives (from Google, eBay, Microsoft, et al) and students (basically all tech neophytes) about the mysterious world of computer programming — and she does it in a single day. As Parsons says, coding isn't just for boy geniuses anymore, and learning the skill will radically improve someone's relevance. HTML, Javascript, CSS — seriously, just imagine the résumé possibilities.
Like visionaries before her, Parsons found her dream job by gleaning experience from other industries. After studying French, Japanese, Latin, Mandarin, and finally the classics at Cambridge, she had a brief stint at Condé Nast, worked at WPP's Ogilvy Group, and then set up her first business, a digital product development and innovation company. Creating the virtual/real-world character Cherry Girl, which aired on MTV International, was just the tip of the iceberg — Parsons was hooked on pushing the limits of what was digitally possible. Finally, she hit on an idea, combining her expertise in digital, languages, and business: Code in a Day.
Decoded's bread-and-butter program,
Code in a Day
, began in August 2011 as a workshop for 10 people and exploded into a phenomenon with seminars reaching locales as far-flung as Hong Kong, South Africa, and even...Palo Alto. Her tight-knit group of coders, communicators, creatives, physicists, performers, and PhDs have already taken their skills to New York; Singapore's next, and their eyes are on the West Coast. But audacious goals are Parsons' forte. They're looking at global expansion, hitting schools nationwide with a code-ed program, offering retreats, and expanding into super-relevant topics like cybersecurity in a day. "Everyone said it was impossible," Parsons says. "Embrace impossible!" Here, she decodes her history for us.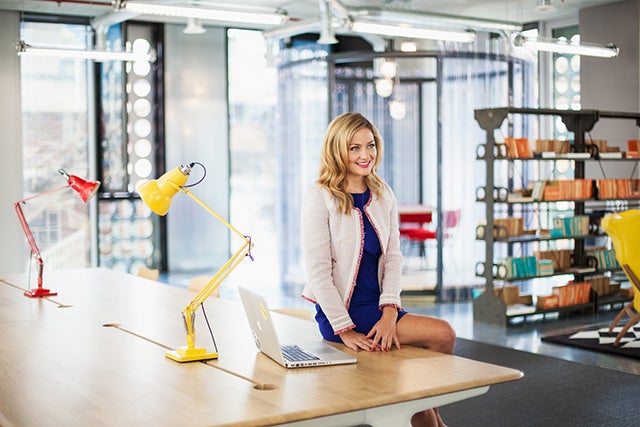 Photographed by Eva K. Salvi
The "Click"
"My life changed over a 30-minute conversation with Steve Henry, a pioneer in the creative industries and now my cofounder. It is amazing how many people you meet in your life, but you know immediately when you meet someone special with whom you immediately click. We talked about code — what was this mysterious language, this dark art, which only super-geniuses could master? We marveled at the levels of fear and digital illiteracy in the professional world. The CEOs of big (often digital) companies didn't understand it; heavy users of technology didn't really understand the technology behind the screen; children were not being taught it in schools. Imagine being able to realize and communicate your ideas using a new language and a new digital paint box. We wanted to learn in a single day — and prove that anyone and everyone could learn these skills and emerge digitally enlightened. Decoded was born, and that 30 minutes changed my life...I could feel it as I walked out. I had fallen down the rabbit hole."
The Great Divide
"Code skills and digital literacy are a need-to-have not a nice-to-have. There is no digital talent pipeline in the U.K. or U.S.A. The hunt for talent has become global. We want to spread digital enlightenment and skills to under-invested in groups, too: women, teachers, children, developing countries. The gap between the digital haves and have-nots is widening and defining the successful and unsuccessful economies and driving a deeper divide between the rich and poor."
Photographed by Eva K. Salvi
Lean Way In
"The importance and impact of [Facebook CEO] Sheryl Sandberg and [Yahoo CEO] Marissa Mayer's stories, visibility, and success can't be underestimated. Technology is not just for boys. Coding is about thinking logically, problem-solving, collaborating, innovating. In what world are these not female skills? Yet I often hear from women "My brain does not work that way" or "I am useless at technology." Is there any other industry or role where you would hear the same? It's like saying women don't have the brainpower to vote! It is a dangerous illusion. Don't just opt in to technology; own it."
The Social Network
"Surround yourself with great mentors, people you respect, trust, and admire. Mine include a 13-year-old coder, a globally famous entrepreneur, my cofounders, the Decoded team, my mother, and a group of Decoded alumni! Exchange thoughts, help, and ideas. There is no such thing as bad advice. When you have a strong vision, it is easier to know what to take on board and what to leave to one side."
London's Silicon Valley
"Truly globally innovative brands and businesses are being grown out of London right now. The key is getting them to stay here once they have reached a certain level of success. The future means building billion-dollar businesses in the London tech scene...and keeping them!"
For more in-depth interviews with inspiring visionaries, click here.