Concert Style! 15 Top Looks From The Treasure Island Music Fest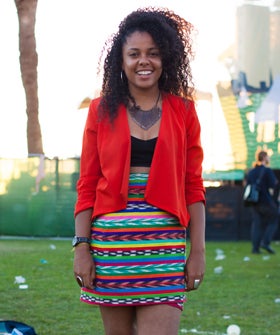 View Fullscreen
As outdoor-concert season slows to a close, here in S.F., we were lucky enough to get one last blowout music fest — and it was
definitely
one for the books. This past weekend, crowds of tune enthusiasts rushed (halfway) across the bridge to feast their eyes and ears upon some of today's hottest acts — from Grimes to The xx — at the
much-anticipated Treasure Island Music Festival.
And while we're always eager to groove to the beat (which we most certainly did), the cool festival wares are what really had us talking. Yep, we patrolled the tiny island for the
best-of-the-best concert style, all for your viewing pleasure.
And let's just say, this year, we were swept away by all the impressive ensembles that show-goers crafted. So, let's revisit this weekend's awesomeness in 15 amazing captures, shall we?
Photographed by Anna-Alexia Basile