At Last: The Trampoline Sidewalk Invented, Transit Crisis Solved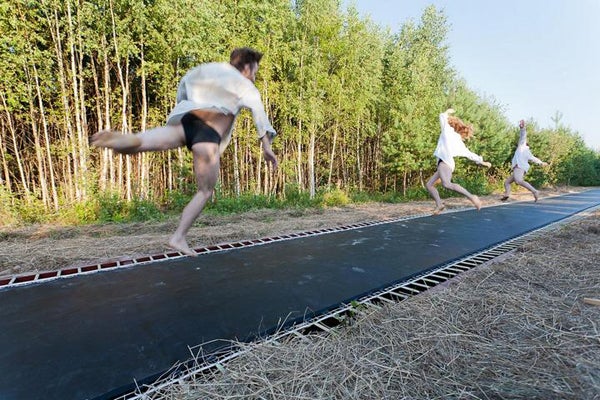 As you may know, the transportation infrastructure in this country is undergoing somewhat of a crisis. Our roads, bridges, and highways — the majority of them created in the early half of last century — are too old, too narrow, and too packed to provide efficient mobility for millions of commuters. Some say the solution is redoubled investment in public transportation — buses, trains, and light rails. Some say we need to put our money into a revamped and re-invigorated highway system.
We say, every town and city across the U.S. simply needs trampoline walkways.
Not only would trampoline walkways provide quick and environmentally sound transportation to and from work, but they would also serve as much needed daily exercise for an increasingly sedentary population (provided they're willing to take off their shoes beforehand). As presented in a 170-foot-long installation by Estonian architecture studio
Salto
, the trampoline walkway would be inexpensive, carbon neutral, and certainly would never cause injury to anyone using it, ever. Are you listening, Mr. President? (
Guardian
)
Photo: Courtesy of Salto