1 Track Jacket, 3 Fresh Outfits That Don't Require Trainers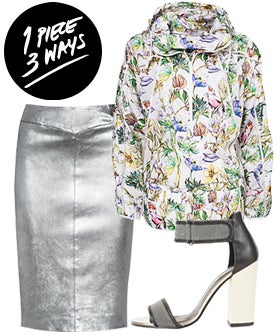 View Fullscreen
We are unabashed fans of trainers well beyond the treadmill and sweats at the office, so it isn't exactly surprising that we're also huge supporters of the incorporation of the athletic jackets into, well, everything.
The topper of the hour is undeniably the track jacket
— and it's a sure bet as your go-to spring layer. The best part? It can add a dash of cheek to any look, whether you're headed to a low-key brunch or a big-deal meeting. So, go ahead and click through. We already styled
three no-sweat Perfect Outfits
to help you cross that sartorial finish line.