My Style: Get Inspired By This BK Designer's Eclectic Pad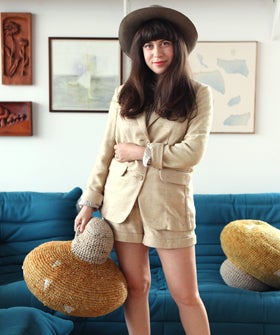 View Fullscreen
If you searched "cult following" on Wikipedia, we're fairly certain NYC designer Samantha Pleet would pop up. After all, when you're beloved by indie darlings all over the world (including bands like Beach House and The Dirty Projectors), Pleet's name deserves top billing.
The Brooklyn babe churns out whimsical pieces like it's her job
(oh, wait…it
is
), offering up flirty dresses, tailored coats, and some seriously awesome booties, too. So, when she offered to take us inside her equally playful home base, we jumped at the chance.
Stepping through the door of the Greenpoint abode Pleet shares with her husband, Patrick, is like falling through the looking glass to a (fashion) wonderland. From her
giant mushroom-shaped throw pillows to her treehouse (yes, treehouse!) inspired bed
to her animal statue-filled balcony — it's magical. Take a tour through this awesome apartment to get some truly global inspiration, plus a look at her spring '13 line. Now, where's the Cheshire cat?