3 Awesome Date Ideas From Start To Finish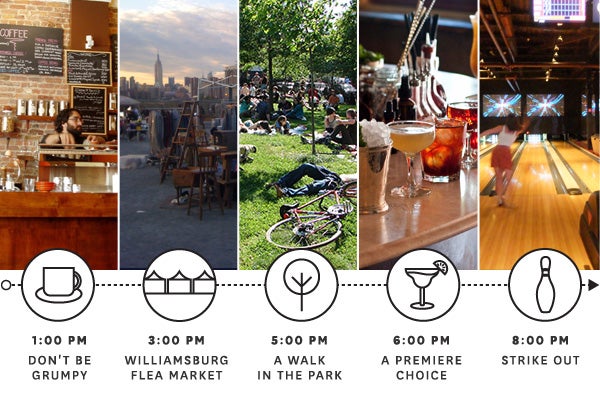 A BROOKLYN BALL

Don't be Grumpy
You may recognize this façade from the ever popular HBO saga Girls, but Café Grumpy also serves as one of Greenpoint/Williamsburg's yummiest coffee houses. Grab an iced Americano and nibble on one of their fresh made baked goods—how does PB&J coffee cake sound—before heading off on your Brooklyn adventure.
Café Grumpy, 193 Meserole Avenue (between Newel and Diamond Streets);718-349-7623.

Williamsburg Flea Market
Located right off Kent Avenue, with a perfect view of the East River and Manhattan across the way, the Williamsburg Flea Market is the perfect place to park yourself on a Sunday afternoon. With fantastic vintage finds, cool new crafts and enough delicious food to keep you stuffed for days—please try Asia Dog—this may be the cutest date you'll ever go on.
Williamsburg Flea Market, East River Waterfront (between North 6th & 7th Streets) Sundays from 10am to 5pm.

A Walk in the Park
McCarren Park is the hub of hipsterdom in McCarren Park. With the perfect people watching spots on every corner, lying in the grass is just about the best thing to do on a sunny summer day. Pack a park playlist (might I suggest some Brooklyn-born Cults or Grizzly Bear) and a cozy blanket and snuggle up with some signature take away margaritas from the Turkey's Nest, the somewhat skeezy dive bar across the street. Not that we're condoning public drinking…
Turkey's Nest, 94 Bedford Avenue (corner of Bedford Avenue and N. 11th Street); 718-384-9774.

A Premiere Choice
There's nothing like a good cocktail to finish up the perfect date. Throw back a signature Absinthe concoction at Bedford hotspot Maison Premiere. With the best selection of oysters this side of the bridge, you can slurp back a couple dozen and enjoy the speakeasy vibes of this ultra-charming outpost. And if your date isn't going too well, you can always drool over the dreamy waitstaff.
Maison Premiere, 298 Bedford Avenue (between S. 1st and Grand streets); 347-335-0446.

Strike Out
I personally have a penchant for quirky dates, and there's nothing quite so Zooey Deschanel perfect as an evening spent slamming back some beers and getting your cosmic bowl on. WIth a tummy full of Brooklyn grub, work it off on the bowling lanes at the Brooklyn Bowl. Part concert venue, part bowling alley, you can catch the latest shows while striking out and hopefully getting lucky.
Brooklyn Bowl, 91 Wythe Avenue (between North 11th and North 12th streets);718-963-3369.