Find Out How Isabel Marant Used To DIY Sneaker Wedges As A Teen
comments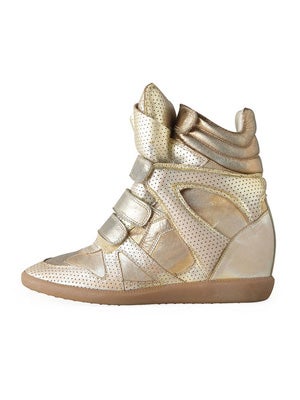 Isabel Marant started something of a revolution when she made a sneaker wedge that was puffy and bombastic in a way that usual street sneakers are — but with that added
lift
.
Designers had been making slim-fit sneaker heels and wedges for eons before, but there was something so cool and special about Isabel's that it's hard to walk down a busy intersection without spotting at least one pair.
She revealed to Fashionista that her idea for the shoe was actually a long time coming: "
It's something I did since I was a teenager. I would cut up cork and put pieces of cork into my sneakers because I wanted to look taller.
[…] Sneakers are so comfortable, but at the same time, it's not very elegant. To have a little heel in it makes a difference, it gives you legs." Amen, sister. From one amateur DIYer to another — we thank you! (
Fashionista
)
Isabel Marant Hi-Top Sneaker, $755, available at La Garconne