Check Out This New Site That's Like The Selby For Kids!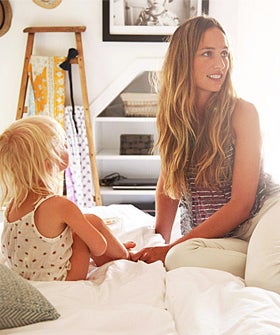 View Fullscreen
If you're feeling broody, go away. Seriously, we guarantee this
new site
will be the equivalent for wannabe-moms of what
Brides
magazine is for girls waiting for that proposal. Dubbed
The Glow
, one click delivers you to a shimmering world very reminiscent of
The Selby
, except instead of global adult tastemakers, look for gorgeous editorials of future influencers, namely fashionable kiddies snapped with their equally fashionable mamas. Edited by Violet Gaynor with photos by Kelly Stuart (who loves her backlighting!), the two in-the-know co-founders explore yummy mummies' "styling ideas, go-to gear, multitasking secrets, and enviable decor." From the ridiculously cool playroom of jeweler Lynn Ban's son, Sebastian, to boxing with publicist Jeanann Williams and daughter Ruby, a visit to The Glow will brighten even the darkest of days—and we won't tell if you happen to email the URL to your partner. He'll get the hint.
Click through to see epic playrooms and adorable tots. Aww-some.