30 Fall Wardrobe Staples To Collect Now!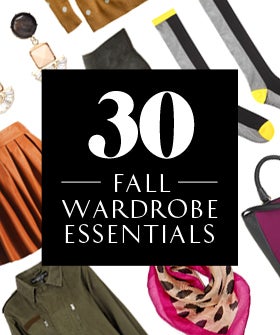 View Fullscreen
There are approximately one million fall trends this season (we've been keeping close track), and separating the wheat from the straight-to-sale rack can feel like an effort in futility. What new purchases will really last you your whole life...or, at least, the next five years? Which trends are actually worth investing in? What pieces will make you look like a tuned-in woman, and which will make you look out of touch?
To help a sista out, we've edited it all down...and then edited some more, distilling it down to just 30 gems we think are worthy of your well-earned cash right now. Whether you've already got your basic fall wardrobe on lock and are looking to jazz it up with a few, inexpensive pieces or you're starting from scratch and want to know which items to save up for, we've got the ultimate fashion field guide to plotting your cool-weather wardrobe. Okay, ladies, notepads out!