Photo: Via Urban Outfitters.
If the pose at left looks at all familiar to you, we're guessing you're an American female between the ages of 25 and 38. Too easy? Okay, try this: You spent many a mid-'90s afternoon browsing Roxy spaghetti-strap tanks,
blue-tinted raver shades
, and Dickies pants, possibly while an episode of
Singled Out
blared in the background. All of this is to say, you were a Delia's catalog subscriber. And, if you were, then chances are the Urban Outfitters model shown here just transported you back to that golden era of ringer tees and ball-chain necklaces with her spot-on impression of a Delia's model.
The arm pose that's both
nonchalant yet studied
. That
pigeon-toed stance
. The T-shirt that is rakishly adorable, and conveniently showcases your
Stefani-worthy midsection
. It's all there, rendered in such perfect, period detail that we can practically
hear
Idalis and Simon Rex intro "
California Love
" for the tenth time today.
Click on for one more pose that proves the '90s are back, big time...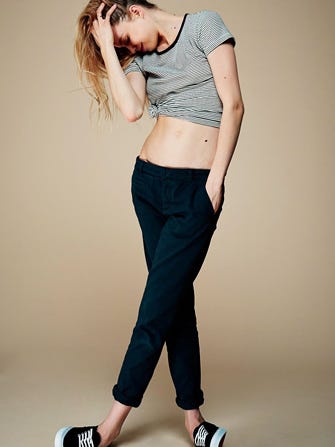 Photo: Via Urban Outfitters.
Yep, the
broken-ankle pose
is back, too. So, what do you think? Now that
Björk buns
,
lug soles
, and every other style statement from our youth has made a comeback, could this be the next level of the '90s revival? Seriously, if this girl's shirt said "Poot!" and those were Bulldog-brand pants with a
wallet chain attached
, it'd be like 1996 all over again. We hope Jenny McCarthy stays awesome and doesn't become an
insane anti-vaxxer
or anything.
Read these next:
The Broke Girl's Guide To Designer Denim
Turns Out, Being A Lady Hypebeast Is Sort Of A Drag
Ew: Plastic Surgery To Get "Designer Feet" Is Now A Thing