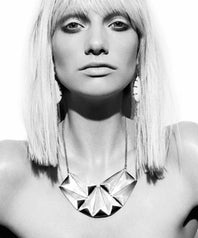 Is it a stretch to say we feel as if our jewelry protects us? After all, when we fail to adorn our fingers and wrists, we feel sort of naked. Clearly, Dean Davidson gets us. For his latest collection, he's playing up the architectural structure of silver and gold, so the pieces strike us as exquisite armor we totally want to get behind.

Of course, it's all translated in a delicate way — elegance and edge coalesce in the form of towering castle rings that cradle semi-precious stones and swooping crescent collars. And, for those who maintain the less-is-more mentality, there are thin chains and dainty cuffs you'll never want to take off. Oh, and did we mention how excited we are to stack those mixed-metal chevron bracelets up our arms? Yeah, we've got our guards up (in a good way) when it comes to these jewels.

Click through the slideshow, then head over to the site to shop the lovely line, which ranges in price from $185 to $535.

Photo: Courtesy of Dean Davidson.