A Copy-Worthy Outfit Proving You Can Be A Babe In Winter Boho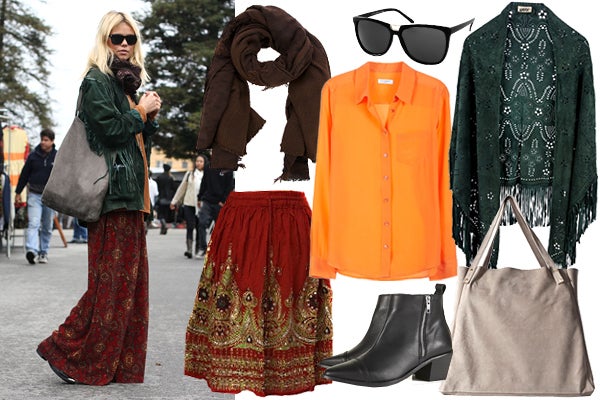 Last week, we challenged ourselves to bring the freewheeling sartorial vibe of the Sixties (a perennial L.A. fave) from summer's sand to wintry temps. You know, because it's no easy task to embrace that breezy spirit when you're not barefoot and kaftan-clad! Well, either Kamilla Alnes (not to be confused with Camilla Alves) read our story, or we should have enlisted her for help, because this chick's layered, oh-so-lovely, and we could totally see her in Keith Richards' posse back in the day (or even hanging with Alexandra and Theodora now).

We spotted the bundled-up babe at the Melrose Trading Post last Sunday, and wanted to swipe that evergreen fringed suede jacket right off her back! Since Alnes is clearly a vintage-lover, her wares aren't a cinch to replicate (unless Scotty could beam us up to the Haight in '68), but here's a brilliant rendition that you'll still want to steal.

(Clockwise, from top left): Claudio Cutuli Paisley Scarf, $212.11, available at Farfetch; ASOS Bridge Detail Cat Eye Sunglasses, $21.11, available at ASOS; Lafre Fringed Leather Poncho, $668.71, available at Farfetch; American Apparel L'Epicier Leather Bag, $95, available at American Apparel; Topshop Abstract Point Zip Boots, $150, available at Topshop; BombayFashions Sequin Boho Peasant Gypsy Short Skirt, $14.99, available at Amazon; Equipment Brett Button-Down in Orange Juice, $198, available at Equipment.