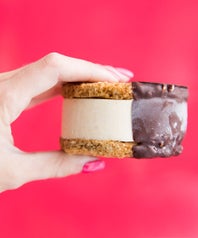 Sure, curses and broomstick rides are nothing but hocus-pocus, but we know one standout way to go 'wich hunting. And, let's just say what we found is pure magic! The Bay's tip-top ice-cream sandwiches have us under their spells, and we tried each and every one to determine the best of the creamy confections, narrowing down the field to these 10 stunners.

From a peachy-keen creation at Prospect to a honey-coated crème-fraiche frozen delight at Miette, here are the most decadent sammies to start sinking those chompers into, stat! Find out wich are the absolute cream of the crop, right here! Mmmmmm.


Want even more R29? Get the latest news, tips, and can't-resist stories delivered straight to your newsfeed, in real time. Like us on Facebook — we'll see you there!
Photographed by Ashley Batz