R29 Author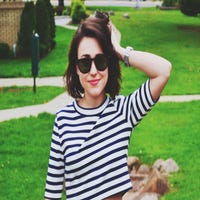 Samantha Sutton
Contributing since
Feb, 2014
Stories Written:
37
The one song I can listen to over and over and over to is...
Anything by Taylor Swift. I'm a big fan and her songs are the only ones I know all the words to!

My must-have cheap thrill...
Costume jewelry, but more specifically, rings from Forever 21. They're always on trend, cost less than a cup of coffee and really make my look complete. I sometimes coat them in clear nail polish so that they look good longer and don't get discolored. (Credit for that tip goes to my mom.)

My current obsession is...
Binge-watching Netflix shows, like OITNB or House of Cards. They're the new potato chips – once you start, you can't stop!
Recent Articles