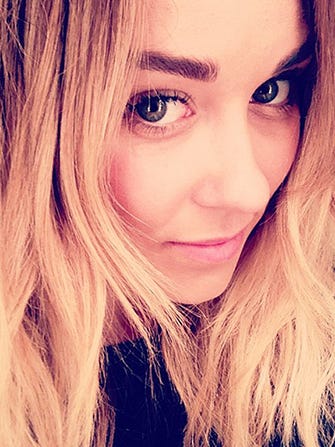 Photo: Via @Instagram.
Lauren Conrad has a bone to pick with
Allure
. Specifically, the new issue and the fact that they called her "basic." While the word "bitch" doesn't actually appear anywhere in the magazine's description of what it means to be basic, it's entirely implied that
Allure
is indeed referring to one of its own frequent cover girls as a "
basic bitch
."
In a feature called "Beauty & the Beat," the magazine breaks down four different style profiles. For example, Leandra Medine is a "Street Stylist" and Vanessa Hudgens is a "Bohemian Hippie." Lauren Conrad is simply dubbed "Basic," and it's kind of obvious that "bitch" goes unstated since the other archetypes all follow an adjective-noun nomenclature.
At first, we hoped the magazine was using "basic" as a synonym for "classic" or "traditional" — maybe even "preppy." All of that hope was dashed by the chock-full-o'-shade description.
"Made famous by Kreayshawn and viral by YouTube, the Basic woman is remarkably unremarkable. What's noteworthy about her style is its very plainness. Except to her. She swears those red-soled shoes are cutting-edge."
Allure
also notes some key attributes of a "basic" woman's style, including that her hair is usually blown out or in sausage curls.
To paraphrase Conrad's reaction on Twitter: NOPE.
I definitely just got called a basic b*tch! Haha! Sausage curls!? Really @Allure_magazine? pic.twitter.com/m7CsNqvU0Z

— Lauren Conrad (@LaurenConrad) July 21, 2014
Oh, it is
on
. Here's an artist's rendering of what Lauren Conrad is currently thinking about
Allure
. (
E! Online
)
Photo: Via Life Being Girly.
More entertainment buzz:
The 25 Breakout Stars Of Summer
Basic Bitches From Beginning To End
The Pitch Perfect 2 Cast Crushes It On Instagram