Is This The Last We'll See Of Kate Middleton's Long Hair?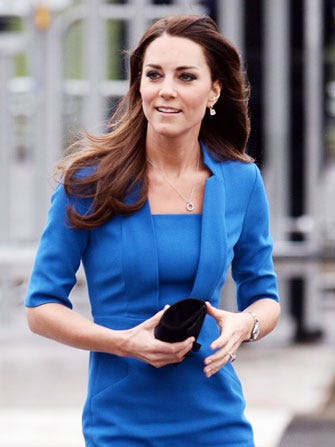 Photo: David Fisher/REX USA.
Brace yourself for beauty news of royal proportions. Kate Middleton is allegedly on the verge of a serious snip.
The Daily Beast
reports that the Duchess of Cambridge will likely say cheerio to her famously free-flowing chocolate brown locks in favor of a more demure, shorter style for her upcoming Australian tour.
As per usual, the rumors about Middleton's fancy follicles have incited worldwide frenzy and have British betting-agency Coral offering odds on which style she'll sport. The most likely option? Chances are one to four that the Duchess will opt for a shorter, shoulder-length cut. And, should you be wondering, the likelihood of the soon-to-be-queen donning dreadlocks is roughly one in 1,000. (We're not statisticians, but we'd say one to a billion might be a more accurate assessment.)
Needless to say, in the coming weeks, we'll be keeping a close eye on any and all action across the pond. And, to think, the last time
we
cut our hair, all we got were a few Instagram likes. (
The Daily Beast
)
Kate Middleton Haircut - Short Hair