Amber Riley Launches Plus-Size Clothing Boutique
comments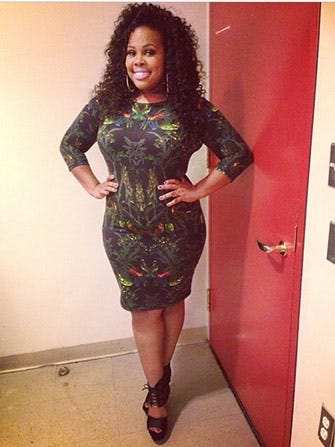 Photo: Courtesy of @rileyland_fashions.
Amber Riley can sing, dance, and seriously pull an outfit together. Now, the
Glee
favorite is taking on the world of fashion with the
launch of her very own plus-size online clothing boutique, RileyLandFashions
. The good news is that you can now literally buy the clothes off the 27-year-old star's back. The bad news is that everything is currently sold out. Oh, shucks.
But, fear not, fans. According to an Instagram message promoting her new e-shop — which will have an official website soon — new stock is on its way. "My sister and I are clothes fanatics and since so many of my curvier fans always express that they like my clothes, I thought why not clean out my closet and fill up all of yours," Riley announced on Facebook. "The clothes are affordable and most are never worn! There will be an official website coming soon with more than one of [a] kind clothing and more sizes for you plus-size cuties!"
Though the
Dancing With the Stars champ
surely has some sequined ball gowns lurking in her closet, we reckon it's just a matter of time before she and her sis start designing themselves. Good on them for striking out on their own. Fashion labels, are you listening? (
StyleWatch
)