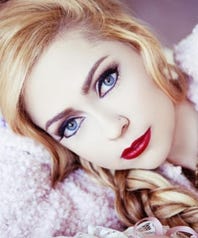 Miley and Billy Ray aren't the only Cyrus' shaking things up in the culture sphere. There's Noah Cyrus, Miley's little actress sister; Braison, the middle child, a slew of half-siblings and adopted kids from Miley's mom's previous marriage, including a former scene-band member and Brandi Cyrus. The latter is an eerie projection of pop culture's favorite twerker's potential future. She's gorgeous, mature, and, more importantly, a woman of her own. Cyrus doesn't let her famous family members define her and her career trajectory, and Nationalist magazine's profile proves that.

Brandi does Brandi, and that's awesome. She's one of Buzznet's Buzzmakers playing pop cultural journalist, a fashion designer, singer, and, according to her Twitter, a "competitive equestrian." She's basically a jack-of-trades (a successful one at that); something the girls of GIRLS only wish they could master.

Inside the issue, Cyrus talks everything from her love of horses, her work-life balance, and, of course, her superstar sister. "I think Miley is finally getting a chance to be who she really is, after years of having to be a fictional character of TV," she says. "I also know from experience that your 20's are full of things that shape who you are and it takes a while to figure it all out. I'm 26 and still learning who I am and who I want to be."

You can check out the entire Nationalist interview here. Oh, and the photo shoot is equally as great. Be right back — just gotta pick our jaws up off the floor. (Nationalist)

The Mileymania continues here:
Miley Cyrus & Her Hot New Guy
Miley Cyrus Calls Out Joe Jonas & Ariana Grande
Miley Cyrus' New Video "Adore You" Proves We Are Officially Bored Of Sex



Want even more R29? Get the latest news, tips, and can't-resist stories delivered straight to your newsfeed, in real time.