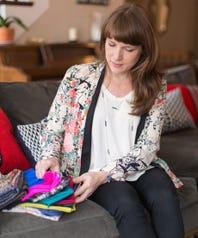 When you grow up in the English town famous for weaving the famous Chanel tweeds, you're bound to be bitten by the fashion bug. But, for designer Elizabeth Bloom, it wasn't clothing that got her sartorial juices flowing. Instead, she took her love of fine textiles and started Dorus Mhor, a super-rad jewelry line incorporating eye-catching silks and limited-edition prints.

While Bloom originally launched her goodies in London two years ago (Florence Welch was an early fan), the creative talent now calls Chicago home. And, in our quest to know all up-and-comers, we popped over to her studio to see where all the magic takes place. Inspired by everything from Art Deco to her travels, Bloom took us through her creative process, one link at a time. Get ready to bead-dazzled.


Want even more R29? Get the latest news, tips, and can't-resist stories delivered straight to your newsfeed, in real time.
Photographed by Grace Willis