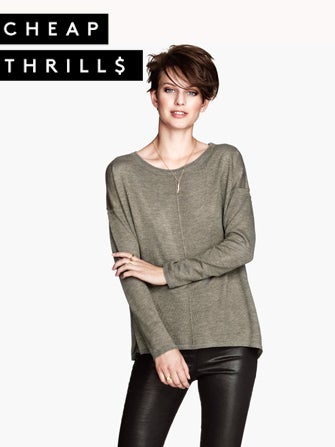 Photo: Courtesy of H&M.
It might sound a little contradictory, but when it comes to shopping, sometimes the "thrill of the hunt" is more tiring than thrilling. We want to find exactly what we need quickly, without fanfare, and immediately incorporate it into our everyday wardrobe. And with this brilliantly oversized, slouchy sweater from H&M, that's exactly what will happen. Cozy and comfy, but still loose and effortless enough to be 100% sexy, this staple layering piece is begging us to snap it up and wear it with, well, everything. We'd take a hint from the (amazingly coiffed) model and don it with leather skinnies, or throw it over a sundress to ward off any early fall chill. But get this: This no-brainer buy is only $10. That's right — 10 measly bucks. And with H&M e-commerce now a reality, you can have it at your doorstep in no time. Do we really need to make a better case than that?
H&M Oversized Knit Sweater, $10, available at H&M.