Would You Touch Another Woman's Hair — In The Name Of Art?
comments
If you've ever doubted whether a woman's sense of self is connected to her hair, you've probably never felt the transformative powers of a good (or bad!) hair day. For many women, their relationship with their hair is emotional — a powerful reminder of their heritage and history.
This emotional connection to hair can add to a woman's confidence — or, in some situations, it can make a woman feel objectified. As Antonia Opiah, the founder of the website
Un'ruly
, writes in The Huffington Post, many African-American women feel violated when people ask to touch their hair — or, even worse, touch it without consent. Opiah writes that although she understands that the question may be the result of innocent human curiosity, the asker needs to understand that "[this question] carries the weight of hundreds of years of being told our hair is unacceptable."
As a continued exploration of this topic, Un'Ruly is hosting a public art exhibit entitled
You Can Touch My Hair
in New York's Union Square on June 8 between 2 and 4 p.m., in which the public will be able to touch various textures of black hair on live models. A bold and politically-charged move, the results of this exhibit could potentially start some important conversations about race, politics, and what it means to be beautiful. We just hope that these conversations can help relay the message that all hair, skin, and body types should be celebrated — and, most importantly, respected. (
Huffington Post
)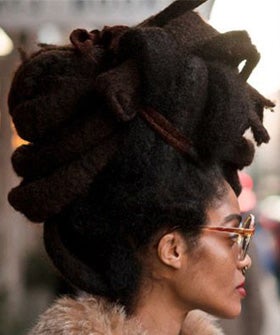 Photo: Via The Huffington Post
Like this post? There's more. Get tons of beauty tips, tutorials, and news on the Refinery29 Beauty Facebook page!