YSL's Muse Cleans Out Her Closet, Offers The Shopping Opp Of A Lifetime
comments
While we know that you can score
an entire wardrobe for under $1,000
, we also know that sometimes, a truly beautiful find is worth the splurge. Take, for example, the
once-in-a-lifetime chance to bid on the personal wardrobe of Danielle Luquet de Saint Germain
. The model and muse to Yves Saint Laurent will be auctioning off her epic collection in October, and it's the stuff dreams are made of.
From days spent providing inspiration to Yves Saint Laurent in the '60s to a later career as an artistic advisor at Dior, Saint Germain has racked up a
12,000-piece collection of designer goods, including pieces from Thierry Mugler, Azzedine Alaïa, and Christian Lacroix
, as well as prototypes by Claude Montana and couture embroidered pieces by Lesage that will make you
le sigh
. And, since Saint Germain was the real-life woman behind Saint Laurent's "Le Smoking," you can be sure the collection will be a mix of high femininity and some menswear-inspired pieces.
Gros & Delettrez will sell approximately 350 lots beginning October 14, and continue every couple of months until the full collection is sold. Saint Laurent once said of his muse, "I had nothing to teach her; on the contrary, it was she who helped free me of all the outdated references I had." We couldn't imagine higher praise. And more importantly, we can't wait to see this Saint Laurent-approved closet, up close. (
Telegraph
)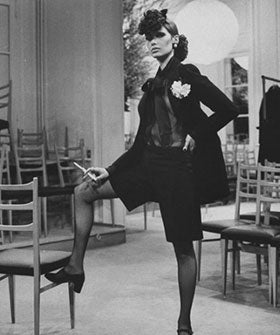 Image: Via Telegraph