Want To Match Your Nails To... Everything? There's An App For That
comments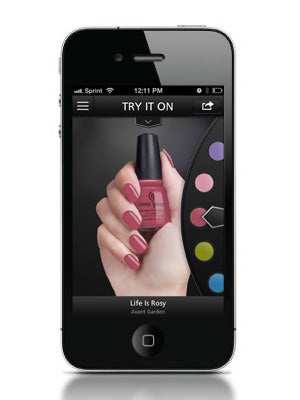 Deciding on just one nail polish color that works with your outfit
and
complexion can be a trying process. Not to mention, there's a never-ending influx of aesthetic inspiration all around you. What if you want a nail polish to match those gorgeous flowers on the street, but also need it to work with your new favorite striped tee? What if you don't want to commit to spending the money without knowing if it actually matches your brown eyes and your black shoes
and
the floral wallpaper? Luckily, now there's an app for that.
Thanks to the nail polish wizards at
China Glaze
, your iPhone or iPad can now help you find the perfect shade to tie it all together. Just take photos of all the things you'd love your nails to match, and the app automatically finds a corresponding color that works with everything. Want to know exactly how the color will look on you? There's even a "Try It On" feature that lets you preview the polish, customized to your skin tone and the length of your nails. And once you've found the shade that answers all your prayers, you can purchase it at
SallyBeauty.com
in few taps. We might never leave our nail polish to chance again.
Photo courtesy of China Glaze