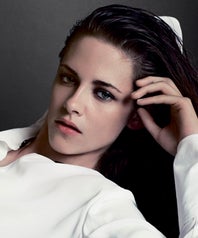 Kristen Stewart's future is still a mystery to us. Though, on the bright side, everything that happened in the past seems to be fading, thus paving the way for a new career without the pitfalls of the pigeonholed. Her PR team is doing a good job dissociating her with the Twilight franchise, booking loads of covers and red carpet appearances to keep the actress' momentum going post-On The Road. Case in point: The latest issue of V, in which the star shakes off the disapproving voice of many a former tween fan's mother with multiple F-bombs and poses for a spread shot by Inez and Vinoodh — which, honestly, looks a lot like an OAK catalogue styled by Rick Owens. Edgy, no?

Peep the photos, check the interview, then tell us: Are you giving your full support over to KStew, come what may? Or are you still waiting for proof she's worth her salt without a vampire by her side? (V Magazine)

Photos: Inez van Lamsweerde and Vinoodh Matadin/Courtesy of V Magazine.