Want To See Seth Rogen Nude? James Franco's Got You Covered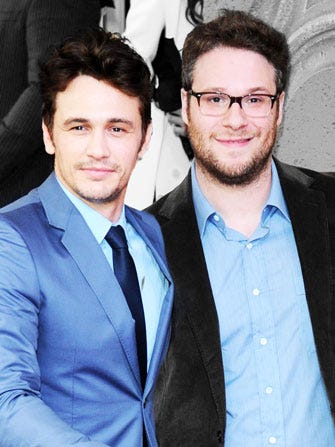 Photo: Stewart Cook/REX USA.
James Franco is an artist. There, we said it. Despite what you may think of the man, he's proven time and time again that his creative endeavors come from a very deeply personal place. See: his painting of Seth Rogen naked.
Franco and Rogen are in the midst of one of Hollywood's most epic bromances, but we had no idea they were
this
close. On Wednesday, the actor Instagrammed a photo of two paintings featuring BFF Rogen in some very compromising positions. We know where your mind's wandering: a candlelit room, Enya on the stereo, and Seth Rogen spread eagle. Unfortunately that never happened. Franco used
these drawings
by artist and
Pinups
magazine editor Christopher Schulz for his inspiration. Still, Kimye's weddding present is pretty incredible, isn't it? (
Gawker
)
Christopher Schulz Seth Rogen Nude James Franco Art