The frazzled, overwrought mom. The mom who has everything together and smiles through it all. The helicopter mom who lives only for her kids.
We constantly see these stock-standard portrayals of motherhood, so much, in fact, that we start to question if there's something weird about us being more complex, more nuanced, and more flat-out real. Please take this as our once-and-for-all statement that there isn't. When it comes to motherhood, or personhood for that matter, there's no such thing as one size fits all. Those who choose to become mothers, just like those who don't, are learning their strengths and weaknesses, figuring things out as they go, and living life on their own terms.
That's why we at Refinery29 are so excited to partner with T.J.Maxx, whose mission it is to shine a light on what makes her, her. Together, we're celebrating these five dynamic women, each of whom has discovered that doing motherhood in her unique way means not just feeling comfortable with herself but also being able to present her best self to the world around her. They have broken the mold — and they're proud of it. They are entrepreneurs. They are body-positivity advocates. They are birth moms. They are adoptive moms. They are younger mothers. They are older mothers. They are women with unique senses of style — physical and otherwise. They are mothers to children with many of the same needs. They are mothers to children with special needs. They are New Yorkers. They are Midwesterners. Together, they form an amazingly inspiring picture of the sometimes messy, sometimes joyous, sometimes complicated reality of modern motherhood.
Christy DeGallerie is a writer, activist, performer, and mother to a 3-year-old daughter who is nonverbal.
Your daughter was diagnosed as being on the spectrum when she was 2. How did you come to terms with raising a child with special needs?
"Initially, I cried. I didn't want to talk about it with anyone. Frankly, I didn't want anyone to know, because I just felt like, Why is this happening to us? Why is this happening to Ava? But now, I've accepted it. It's just who she is."
How did you get to that point?
"Surrounding myself with other parents of children with special needs helped a lot. As soon as I mentioned that she had special needs on social media, I received this outpouring of messages from moms going through the same thing. I even heard from a woman in her 50s who said, 'My daughter didn't speak until she was 7, and now she's a pediatrician.' Having that village surrounding me made me realize that it's going to be okay and that it's totally normal for Ava to go at her own pace, to the beat of her own drum."
What's the toughest part of parenting a child with special needs?
"She has therapy five times a week and sees two or three therapists every day. It's like a 9-to-5 job, even though she's a 3-year-old. Morning to night, she's just constantly working and doing. She's making progress, but it's so, so difficult."
And what's the most rewarding?
"It's incredibly difficult to see Ava try to make us understand what she wants and needs without words. But it also means that I get to connect with her on a deeper and more emotional level. If she's upset, she'll touch my face, for example. It's one thing for someone to tell you how they feel, but it's another to actually look into her eyes and respond to what she's feeling."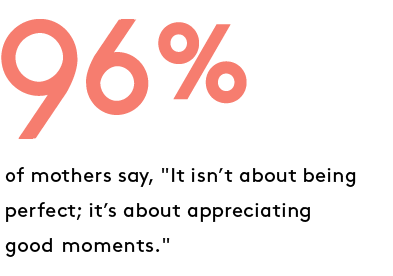 What do you wish you could tell people, once and for all, about children with special needs?
"I want them to know that there isn't one kind of child with special needs. People make all these comments like, 'Oh, she has special needs and she's so active,' or 'Oh, she has special needs but she understands me.' As humans, we tend to put people under these umbrellas. Ava is just one child though. She's one person. She's unique, like all people."
An alumna of the World Bank and the Clinton Foundation, Yoko Shimada has spent her career working to improve public health outcomes. After giving birth to two children, she shifted gears and launched a clothing line dedicated to supporting expecting and new moms.
You started your business right after having your second child. What made you take the leap?
"Before I became a mom, I had this kind of utopian idea of motherhood. Yes, as a new mom, I was really, really happy, but I also saw how difficult it was for me, and that made me think about how incredibly difficult it is for people who are not as privileged as me. It opened my eyes to the fact that we, especially in this country, don't do a very good job of supporting working mothers. For example, if breastfeeding is recommended by the World Health Organization, why is it that it's frowned upon in public? Why are there are no facilities at most workplaces that actually support women breastfeeding there?"
So you did a bit of a career 180.
"While I did change direction, I don't feel like I left my public-health career. When you look at the health system of any country, you first look at the health of the mothers. That's because the decisions that mothers make directly impact the health of their children and the greater family. Plus, while I didn't really realize it at the time, a lot of the skills I learned, like being able to communicate clearly, network, and make presentations, were very much transferable."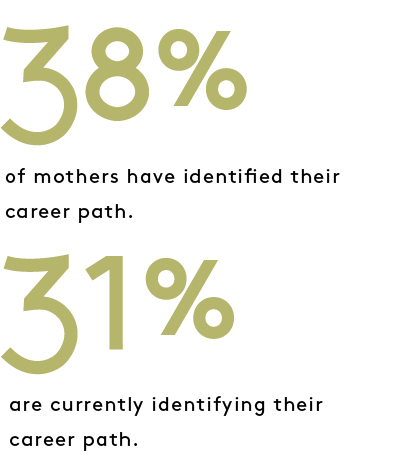 Running a business is hard, period. Do you face any unique challenges as a woman and a mother?
"There are definitely misconceptions about female entrepreneurs who are moms. No one calls dads 'dadpreneurs,' but they do call moms 'mompreneurs,' and it makes me cringe. It sends the message, Oh, she's doing this for some time while the kids are in school; she's left her career and started this little business. How cute! People either seem to think I'm crazy for having left my old career or that I'm sitting at home having tons of time with my kids. Actually, I have less time with my kids, because this is my business, and that means I'm on 24 hours a day."
Given that, what's your best advice for entrepreneurs, mothers or not?
"Entrepreneurship is like having a third kid for me; it's very hard. So have an underlying passion that carries you through and wakes you up in the morning. When I've made decisions based on making a profit, it's led to not-so-good results. When I go with my heart, it works. Always focus on what you want to achieve, on your 'why.'"
Following a seven-year journey to motherhood, Maria Confer and her husband completed an open adoption of their now-4-year-old son in 2013.
There's this idea that motherhood just happens, but that's not how it worked for you. What was the process like?
"My husband and I began trying to get pregnant when I was 25. When, over time, nothing happened, I went on Clomid, diabetes medication, anti-seizure medication, and through IUI, three IVF cycles, and blood transfusions. Everything was kind of falling apart around that time, because of all the stress, hormones, and heartache every month when I got my period. It was a constant roller coaster of hope and then no hope, hope and then no hope."
So that's when you decided to adopt?
"We actually had always talked about adopting a child later in life, so we had gone to informational meetings with agencies, and it was on our radar. It also came down to that by our early 30s, my husband and I were in a place where we could afford to spend the $20K+ it takes to complete a domestic adoption."
Has there been anything especially challenging about being an adoptive mother?
"It's always very upsetting and discouraging to read or be told that I'm the fourth best person to be raising my son. The first choice is for him to be raised by his birth family, the second is to be in a kinship, the third is to be within his culture and race, and the fourth is me. That's humbling, and it's depressing at times, because here I am, not the best option for Xavi, but he's stuck with me. I always ask what I can do to make it the best life that I can for him, to make sure that he doesn't grow up angry. It's up to me to give him the space to process that he's adopted, to answer the questions that will probably come up, and to help him not feel threatened by any fear and sadness about it."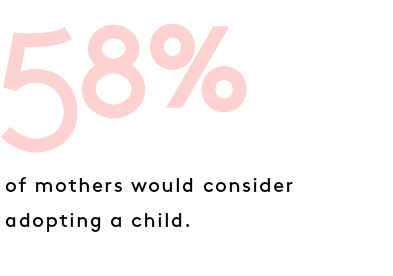 You also have a really unique relationship with Xavi's birth mother and four older birth siblings, who are still in her care.
"We visit them about once a year, and we communicate a lot on social media outside of that. His oldest sibling is 13, and all of the kids are amazing. We know the relationships could ebb and flow as they all get older, but we hope that they can always grow. Even though we don't see each other very often, they are family. They are connected. And it's incredible. I love Xavi's birth family like my family, and while it's a strange connection, it's also so intense and so deep."
As an adoptive mother, do you face any misconceptions?
"That people think that my son is not enough and that I just have to have a biological child. My son is incredible, amazing, and our everything. For anyone to think that he's not enough, I just want to slap them and be like, 'Open your eyes!'"
Brittany Gibbons is a body-positive advocate, two-time book author, TED speaker, and mother to two 10-year-old sons and a 7-year-old daughter.
You have two sons and one daughter. What's been unique about raising Gigi?
"I don't want to take away from having sons, but there's something very terrifying about raising a little girl who looks just like you. When Gigi was about 3, I noticed that she'd stand in front of the mirror, kind of suck in, and put her hand on her tummy. She started asking how all her clothes looked. I didn't understand what she was getting at until I realized that every time I left the house, I'd go, 'Ugh, how does this look?' She was doing it because she thought that's just what women do. I was giving this one-woman show of how to be insecure in your body."
So what did you do?
"I knew that I had to change what was happening in front of her. I thought that if I could pretend to fully like myself, change the language I used, and act excited to try on clothes, she'd believe me. I was really putting on a play, but the weird part was, it eventually stuck."
It sounds so simple.
"It's not. It's really a disservice to women to sell the concept that body-love and body-confidence are things that suddenly happen 100% of the time. I do love my body a lot of the time, but I still hate it sometimes, too. I want people to see when I'm confident on stage giving a TED Talk in my bathing suit, but I also want them to know that the night before that, I backed out of going to the speaker dinner because I felt bad about myself, stayed home in sweatpants, and cried."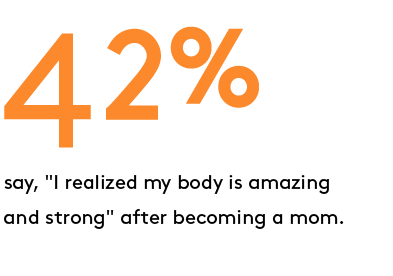 You're very open about this. Do you ever feel the desire to retreat?
"I don't. I'm open because nobody was open with me. I felt like I was left hanging when I became a mom, when my body changed, and when I was unhappy, because everyone around me, every blog, every Instagram picture looked like they were totally handling it. I know it's a lie now, but I thought, Why is nobody talking about how mediocre you can be at this, and how terribly messy it is, and how much you cry? It is scary to put those things out there, but the first time somebody came up to me, hugged me, and started sobbing, I knew it was absolutely worth it."
What would you tell someone who is considering becoming a mom and is concerned about how her body will change?
"In all honesty, you should know that it's going to change. I don't know a single thing on this Earth that can grow a human for nine months and come out completely unscathed. As you sit with this amazing baby and it grows into a child, you realize that you don't want to be left without any marks of that. That was an amazing thing you did, so treat what's happening to your body as a sign of life, a sign that you did something magical. Being left with no stretch marks, my body looking exactly the same like this had never happened, I would never want to erase this experience from my life."
Khalilah Beavers is a vintage boutique owner, celebrity stylist, stepmother to four, and birth mother to one with a personal style that rivals that of any of her clients.
You got to know your now-husband and his four biological children at the same time. Then, you two had Mosiah. What was the process like?
"It was very interesting to say the least. Kids always have the idea that their parents are going to get back together, so it takes time, patience, being understanding of how they feel. I had to try not to be a friend but more so a third parent who wasn't taking their mom's place yet was there if they needed anything. Having Mosiah brought us all closer. I don't want to say that it really made me a part of the family, but it kind of did. It solidified my place."
It also changed how you felt about yourself, not to mention your style.
"I feel like I'm just getting back into myself six years later in terms of what I'm comfortable with and having pieces in my closet that I love. Before I had my son, I thought I could wear anything in the world and it would look great on me. While I was pregnant, I was in stretch pants and oversized T-shirts. Afterward, I threw away all of my clothes because I hated everything and wanted to start over. Sure, nothing fit, but I also felt like I was going through a really difficult life change. I was used to my body looking one way and dressing one way, and it just wasn't that way anymore."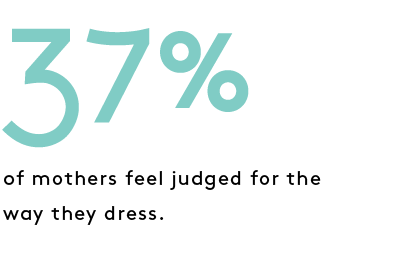 And now?
"I wouldn't say my style is particularly a mom-style. I'm mom who's a stylist, so I have a unique way of dressing for who I am and what I do. I'm fun, eclectic, a little funky, and — this is the key — comfortable. I just want to look like I feel good in what I'm wearing. Half the battle of wearing clothes is the confidence. The other day, someone complimented something I was wearing and asked why I didn't dress her in it. I said, 'Because you're not ready to own it! I can put it on you, but if you don't feel like it's you, it won't look good on you.'"
What do people get wrong about you?
"I think when people see people in fashion, they get an idea that they live this life where it's all about the look, but that's not it for me. I work my ass off. I'm with my children all the time. The way things are portrayed is not necessarily the way that they are. I'm a person. I'm real."